THE WELL is pioneering a new way to care for your health. We create spaces, products and programs that integrate modern medicine and ancient modalities to deliver personalized, holistic healthcare that works.
Your complete ecosystem for wellness.
Drawing from both Eastern and Western medicine, we bring together doctors and healers to collaborate and create best-in-class spaces, products and content that help you feel the best you can.

Our Products
We've harnessed the power of our practitioners to create the most trusted products in functional health — from immune-strengthening supplements to essential oil-based self-care products.

Our Spaces
We set the standard for what a wellness space could be. Through design choices, high-touch amenities, vetted products, well-sourced ingredients and more, we make taking care of yourself easy. Currently open in Washington, CT.

Our Programs
Our library of programs and telehealth services can help you take greater agency over your health. From well-curated weekly programming to services with our best-in-class practitioners, we deliver a holistic wellness experience.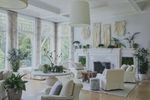 Experience our newest location in Washington, Connecticut
A holistic wellness destination like no other
THE WELL at Mayflower Inn brings an innovative level of holistic health to one of New England's most exquisite country retreats. Through restorative spa treatments using East-meets-West healing practices, expert-led health coaching sessions, daily workshops and seasonal retreats, your best self awaits.
Our care team is made up of the best doctors and healers in the world. They are New York Times-bestselling authors, former presidential advisors, major league sports team doctors and more.