THE WELL Way

Formulated by a Master Bioalchemist to Deliver Therapeutic Benefits

Developed Using Sustainably Sourced and Wildcrafted Botanicals

Packaged in Violet Glass That Blocks UV Rays to Preserve Ingredients Longer

Paired With Well-Rounded Support: Recipes, Lifestyle Tips and More


Michelle Gagnon, Master Bio Alchemist, on our Essential Oils

Your purchase comes with Well-Rounded Support
One product won't change your life, but it can be the catalyst to making meaningful changes to improve your health.
We're with you on your way to wellness. When you buy this product, you'll receive exclusive tips, recipes, exercises and more straight to your inbox from our world-class practitioners.

From the Source
The products in the Relax Bundle feature sustainably wild harvested and organic essential oils — each coming from a farm or community that has been vetted for its methods of harvesting, land management and extraction process.
A rare oil that is steam distilled from a small tree native to Australia. This oil is extremely high in calming linalool and is excellent for promoting a peaceful and relaxing environment.
A versatile essential oil distilled from the plant Lavandula angustifolia. This oil promotes relaxation and is believed to treat anxiety, insomnia, nausea and more.
An essential oil with antimicrobial benefits, sweet orange delivers a calming, relaxing scent shown to reduce heart rate.
Derived from a green grass native to India, vetiver is known for its soothing, grounding effects and earthy scent.
An herb native to the Mediterranean, this oil provides comforting, calming properties and has traditionally been used to soothe muscle pain.
An essential oil distilled from the wood of a tree, amyris has an earthy, grounding scent that can help soothe stress, promote relaxation and calm an anxious mind.
Full Ingredients List
Words of Wisdom to Inform Your Wellness Journey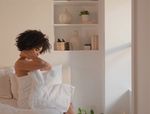 Your health now has
one (web) address
Your complete ecosystem for wellness is now available online. Start your journey with us without sacrificing your social distancing, and access our best-in-class doctors, healers and practitioners from the comfort and safety of your home for only $149/month (your first month is free!).