Inside Each Pack
These science-backed supplements work together to bolster the system and support the adrenals and nervous system during times of extreme stress.
THE WELL Way

Developed by a Team of Integrative Doctors

Supported by Unbiased Research and Science

Formulated with Synergistic Ingredients in Meaningful Doses

Tested by Third-Party Labs for Safety and Purity

Paired with Well-Rounded Support: Recipes, Lifestyle Tips and More

Active Ingredients
When the body is under stress, it can quickly burn through key nutrients, so it is important to maintain sufficient levels of essential vitamins. Our Stress Complex formulation combines 24 ingredients to actively support your health during times of stress.
5-HTP (5-Hydroxytryptophan)
Commonly referred to as a "feel good" neurotransmitter, 5-HTP increases serotonin levels in the body to promote restful sleep, manage stress, decrease sugar cravings and support a sense of overall well-being.
L-Theanine, also known as L-γ-glutamylethylamide and N⁵-ethyl-L-glutamine, is an amino acid found primarily in particular plant and fungal species. It has been shown to promote relaxation without causing drowsiness.
PharmaGABA® (gamma-aminobutyric acid) is a potent naturally sourced form of GABA that slows down stress and provides a focused state of mind via the production of calm-inducing alpha brain waves. (Our GABA is made by Lactobacillus fermentation, a process considered more effective than chemically produced synthetic forms.)
Chamomile is a flower extract that may aid in bringing calm and relaxation. It has been shown to promote calmness without causing drowsiness.
By supporting the production of GABA, a calming neurotransmitter that helps balance the stress catecholamines, Lemon Balm helps promote relaxation.
Valerian is a perennial plant that grows wild in grasslands throughout North America, Asia and Europe. It is believed to increase the levels of GABA in the brain, contributing to a calming effect in the body.
Magnesium (as TRAACS® Magnesium Bisglycinate Chelate Buffered from Magnesium Bisglycinate and Magnesium Oxide) is one of the body's most important minerals. It aids in muscle relaxation and therefore may help with simple nervous tension and offer a calming effect for body and mind.
See Supplement Label

Your purchase comes with Well-Rounded Support
One product won't change your life, but it can be the catalyst to making meaningful changes to improve your health.
We're with you on your way to wellness. When you buy this product, you'll receive exclusive tips, recipes, exercises and more straight to your inbox from our world-class practitioners.


Frank Lipman, M.D., Chief Medical Officer, on our Supplement Complexes
Words of Wisdom to Inform Your Wellness Journey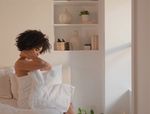 Your health now has
one (web) address
Your complete ecosystem for wellness is now available online. Start your journey with us without sacrificing your social distancing, and access our best-in-class doctors, healers and practitioners from the comfort and safety of your home for only $149/month (your first month is free!).