Your Free Guide To: Mindful Eating

Unlike dieting, mindful eating is a sustainable, science-backed way to transform your health through food.
Download the Guide
Packed with information, tips and advice on the practice of mindful eating, this guide can help you reach a healthy weight, improve your digestion and enjoy your food even more.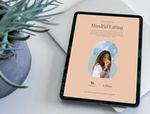 You will benefit from this guide if you:
+ Have tried countless diets over the years with no long-term success
+ Want to improve your overall health markers
+ Find yourself over-eating foods mindlessly
+ Desire to regain a sense of control around food in general
+ Love food, but don't always love the way it makes you feel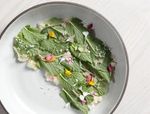 What's Inside:
+ Six science-backed benefits of mindful eating
+ Eight simple steps to a more mindful meal that you can take with you whether you're eating at home, at a restaurant or on-the-go
+ The Culinistas recipes to practice mindful eating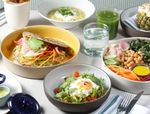 The teams behind
your guide to
Mindful Eating
The Culinistas is a full-service, in-home private chef company committed to hospitality. We facilitate and enhance private chef services, making healthy eating with friends & family easy and accessible.
The Culinistas provides all the benefits of a full-time chef without the cost and time required to manage a full-time employee. We recognize that every household is different and personalize the experience from start to finish so your household is getting the food they want, the way they want it.
THE WELL is your complete ecosystem for wellness. We bring together Western doctors and Eastern healers to collaborate and create best-in-class healing spaces, innovative products and educational content and programs that empower you to take greater agency for your health. At THE WELL, your health is integrated, proactive and personalized.
*By downloading the guide, I agree to receive marketing emails from THE WELL and The Culinistas. I understand that I may opt out of receiving these emails at any time.