Let the Healing Begin
Explore our integrated health offering.

Medical & Health Coaching
Meet with a Functional Medicine doctor or certified holistic health coach to get to the root cause of your health issues and develop a customized plan.

Bodywork & Massage
Decrease stress, relieve tension or simply relax with foot rubs, targeted bodywork treatments or a full-body massage — all personalized to support your needs.

Biologique Recherche Facials
Experience transformational results and true skin health with a Biologique Recherche facial. Our menu of innovative services created in partnership with the renowned skincare brand takes a clinical approach that truly works.

Mindful Movement
Personalized support to help you evolve your exercise routine or meditation practice — bookable as private one-on-one sessions or small group classes.

Recovery
Select from a menu of vitamin-infused IV drips designed by doctors and administered by nurses or touchless recovery services you can access on your own.

Acupuncture
Treat the Mind, Body and Spirit using the natural, safe and effective methods of Chinese Medicine and Acupuncture. Our Practitioners will help identify the root causes of chronic pain and illness, soothe the Spirit and quiet the Mind.

Vibrational Energy Healing
Promote deep healing through the adjustment of energy frequencies in the physical body. From Craniosacral Therapy to Reiki, our team of healers can help you release stress and tension.

Ayurveda
Align with nature's rhythms and unlock your true power, beauty, purpose and abundance as a spiritual being with one of the world's oldest holistic healing systems, Ayurveda.

Physical Therapy
Work through your body movements, test for imbalances and create a customized plan to prevent future injuries, work on existing injuries and optimize your performance with our Physical Therapy treatments.

Movement & Fitness
Personalized support to help you evolve your exercise routine or meditation practice — bookable as private 1-on-1 sessions or with a small, semi-private group.
Our small-group yoga classes prioritize intentional movement, regardless of pace. It isn't just about how fast or slow you go — it's about building functional patterns that improve physical conditioning, strength, mobility and mental focus.
These teacher-led small-group sessions draw upon a variety of proven techniques that empower you to better manage stress and upgrade your overall well-being.
This ancient Chinese wellness practice, led in a small-group setting, involves fluidly linking deliberate, meditative movements and rhythmic breathing.
Our signature HEAT (High Energy Activation Training) classes are a challenging 40-minute total-body circuit that kicks off in small groups every 10 minutes. Pre-registration is required.
Coming soon. Please email reservations@the-well.com to be notified when booking becomes available.
In these one-on-one sessions, work with a highly skilled personal trainer to increase strength, stamina and energy.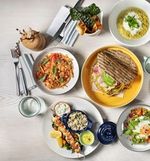 Kitchen & Table
Our in-house, locally-sourced restaurant, Kitchen & Table, is open with a new and improved All-Day menu serving breakfast, lunch and dinner.

Take your pick from:
+ Indoor dining (at 50% capacity)
+ Healthy grab-and-go prepared foods
+ Takeout and delivery
There will temporarily be no a la carte Market Table offerings.

After Hours at THE WELL New York
Make THE WELL New York your private oasis for four hours with up to four people in total. Enjoy the use of all the spa facilities at your own pace with a few friends, a loved one or even on your own.
This package includes:
+ Dinner at THE WELL Kitchen & Table
+ Lymph Drainage Massage & Dry Brushing
+ Private Thermal Experience
+ THE WELL Self-Care Collection
+ Private access to THE WELL New York for 4 hours
For more information or to book your After Hours experience, inquire at reservations@the-well.com.
Located on 15th Street, just steps from 5th Avenue
2 East 15th Street
New York, NY 10003
Less than a five minute walk from the Union Square 4, 5, 6, L, N, Q, R and Q trains and less than ten minutes from the 14th Street L, M and F and PATH trains.
You can also find us here: