Let the Healing Begin
Explore our integrated health offering.

Medical & Health Coaching
Meet with a Functional Medicine doctor or certified holistic health coach to get to the root cause of your health issues and develop a customized plan.

Bodywork & Massage
Decrease stress, relieve tension or simply relax with foot rubs, targeted bodywork treatments and full-body massages, all personalized to support your needs. All massages offer the complimentary add-on of infrared therapy, which is built into our custom treatment beds.

Biologique Recherche Facials
Experience transformational results and true skin health with a Biologique Recherche facial. Our menu of innovative services created in partnership with the renowned skincare brand takes a clinical approach that truly works.

Mindful Movement
Support to help you evolve your exercise routine or meditation practice — bookable as private one-on-one sessions or small group classes.

Recovery
Select from a menu of vitamin infusion drips designed by doctors and administered by nurses or touchless recovery services you can access on your own.

Acupuncture
Treat the Mind, Body and Spirit using the natural, safe and effective methods of Chinese Medicine and Acupuncture. Our Practitioners will help identify the root causes of chronic pain and illness, soothe the Spirit and quiet the Mind.

Vibrational Energy Healing
Promote deep healing through the adjustment of energy frequencies in the physical body. From craniosacral therapy to reiki, our team of healers can help you release stress and tension.
More to Experience at THE WELL New York

360-Degree Approach
Seeking support for something specific? We believe in the power of integrated wellness to treat your most important needs.
We can help you regulate hormones that control sleep, increase all-day energy, supercharge your immunity and cultivate healthy sleep habits.
We can help you elevate your mood, quiet an anxious mind, boost energy levels and calm your nervous system.
We can help you soothe intestinal distress, improve digestion and metabolism, boost your immune response and enhance nutrient absorption.
We can help you alleviate acute and chronic pain, improve full-body mobility, correct physical imbalances and release muscle tension.
We can help you regulate your thyroid function, manage menstrual cycles and/or perimenopausal symptoms, reboot energy levels and rejuvenate skin and hair health.
We can help you achieve optimal wellness and longevity through mindful movement, holistic health offerings, advanced medical testing and more.
We can help you nourish your body with thoughtfully-sourced food, correct imbalances, move mindfully and achieve optimal, healthy weight loss.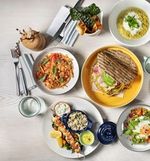 Kitchen & Table
Our in-house, locally-sourced restaurant, Kitchen & Table, is open with a new and improved All-Day menu serving breakfast, lunch and dinner.

Choose from:
+ Indoor and outdoor dining
+ Healthy grab-and-go prepared foods
+ Takeout and delivery
There will temporarily be no a la carte Market Table offerings.
Plus, don't miss happy hour!
Monday-Saturday, 5pm-close
Located on 15th Street, just steps from 5th Avenue
2 East 15th Street
New York, NY 10003
Less than a five-minute walk from the Union Square 4, 5, 6, L, N, Q, R and Q trains and less than ten minutes from the 14th Street L, M and F and PATH trains.