release
a 15-day course to acknowledge your stress and release your anxiety by uncovering the wisdom of your mind, body and soul
Here's what people are saying:

release, a 3-part webinar course
What you'll receive:
+ Recorded videos of each session
+ Detailed course guide
+ Recommended products and services
+ Curated Spotify playlist
+ Personalized vision board (created by you!)
+ Exercises that help you to explore each topic and integrate it into your life
+ Learn the neuroscience behind anxiety
+ Discover how to reframe anxiety as a survival strategy that enables you to dull negative emotions and continue to take action, rather than as a problem that needs to be fixed
+ Identify the unique stories you tell yourself about your anxiety
+ Learn about the Polyvagal Theory to build awareness of your unique nervous system
+ Begin to track somatic experiences of anxiety, building awareness without judgment of what brings you into an anxious state — and what brings you out of it
+ Practice embodying emotions through guided movements, experiencing things just as they are
+ Practice yoga poses for moving through anxiety with our Director of Mindful Movement, Joyce Englander Levy
+ Learn about different cultural and spiritual practices' approach to releasing anxiety
+ Integrate learnings from Session One and Session Two, uniting the new narrative you've developed about your anxiety and the new tools you've learned to be with it
+ Identify what you want to take with you from the series and what you want to leave behind, through participation in a releasing ritual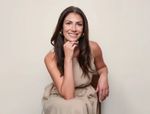 Meet your instructor,
Lia Avellino
Lia Avellino, LCSW, is a Columbia University-educated psychotherapist and facilitator devoted to supporting individuals and communities in enhancing their quality of life. She has studied the science behind human connection for a decade and works with her clients to cultivate a deeper connection with themselves, which leads to more satisfying friendships, romantic partnerships and sexual relationships. Avellino has worked both nationally and internationally demonstrating her commitment to social justice and health equity, always aiming to make supportive services more accessible and less stigmatized.