Sports Therapy
Our sports medicine offerings are designed to support you on your way to wellness. Our Doctor of Physical Therapy will analyze your body movements, test for imbalances and recommend therapeutic exercises, while our team of certified personal trainers can develop a personalized workout plan to help you train and see the results you want.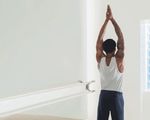 Complimentary Sports Medicine Consultation
15 minutes
Connect with our Doctor of Physical Therapy to further understand how you may benefit from our one-on-one physical therapy or personal training sessions. He will address any questions you may have about our offerings and how we can help you stay fit, mobile and well.
In-Person & Virtual*
Member only | $0
*Friendly reminder: To comply with the latest telemedicine laws, you must physically reside within New York state at the time of your virtual telehealth service.
Can I use my FSA / HSA?
THE WELL now accepts FSA / HSA cards for applicable services and retail purchases. Be sure to check your plan for allowable categories.