Traditional Chinese Medicince
Chinese medicine doctors observe how Qi (pronounced chee) — a person's vital energy — is functioning and chart a course for bringing the individual into balance through dietary and lifestyle changes.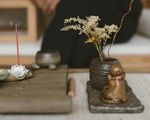 Wellness Session
60 Minutes
+ Optimize your wellness through Chinese herbs, targeted supplements, nutritious foods and acupressure points
+ Gain a deeper understanding of the interconnectedness of your body
+ Receive personalized, practical advice that address your health concerns and goals, which may include immune health, anxiety relief, fertility and more

In-Person & Virtual
Member | $380
Non-Member | $450
Can I use my FSA / HSA?
THE WELL now accepts FSA / HSA cards for applicable services and retail purchases. Be sure to check your plan for allowable categories.