Clean Hands Sanitizer: Pink Peppercorn & Grapefruit
THE WELL Way

Formulated by a Master Bioalchemist to Deliver Therapeutic Benefits

Approved by the FDA & WHO for Sanitary Certainty

Developed Using Sustainably Sourced and Wildcrafted Botanicals

Paired with Well-Rounded Support: Recipes, Lifestyle Tips and More


Joyce Levy, Director of Mindful Movement, on our Essential Oils

Your purchase comes with Well-Rounded Support
One product won't change your life, but it can be the catalyst to making meaningful changes to improve your health.
We're with you on your way to wellness. When you buy this product, you'll receive exclusive tips, recipes, exercises and more straight to your inbox from our world-class practitioners.

From the Source
Clean Hands Moisturizing Sanitizer features sustainably wild harvested and organic essential oils known for their antimicrobial and mood-supporting properties — each coming from a farm or community that has been vetted for its methods of harvesting, land management and extraction process.
Distilled from the fruit of the pink peppercorn tree which is native to the Peruvian Andes, this essential oil's scent is enlivening, without being overstimulating.
Through the process of cold-pressing, this oil is extracted from glands in the peel of the grapefruit. It is believed to have potent antibacterial and antimicrobial effects and to help reduce stress.
This moisturizing hand sanitizer spray contains 80% ethyl alcohol to help effectively kill germs and bacteria on your hands.
A vegetable-derived moisturizing ingredient that is a natural humectant, meaning it attracts and traps moisture to the skin. Often found in natural soaps, it has is known for its cleansing and moisturizing properties.
Derived from a genus of grass commonly native to tropical countries such as India, China and Thailand, this oil is commonly used to reduce inflammation, relieve headaches and ease indigestion.
Native to the Mediterranean, this essential oil is steam distilled from the leaves of Laurel Evergreen Tree and is known for its bright, uplifting scent. As an ancient symbol of courage, its aroma is said to promote confidence and concentration.
Originating from the same plant as Cilantro Essential Oil, this invigorating, stimulating oil is often applied topically to promote clear skin.
Full Ingredients List
Words of Wisdom to Inform Your Wellness Journey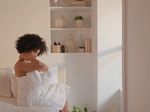 Your health now has
one (web) address
Your complete ecosystem for wellness is now available online. Start your journey with us without sacrificing your social distancing, and access our best-in-class doctors, healers and practitioners from the comfort and safety of your home for only $149/month (your first month is free!).