Yoga Teachers
Image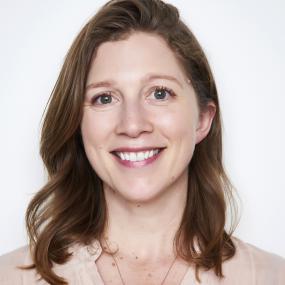 Joyce Englander Levy
Joyce Englander Levy has mentored and instructed thousands of students during her 20-year career as a yoga and meditation teacher. As co-owner of the renowned Yoga Shanti studio from 2013 to 2018, Levy built a community that included both beginners and seasoned instructors. Having graduated magna cum laude from Miami University with degrees in psychology, linguistics and poetry, she has come to view yoga as "the language of the body, mind and spirit" and strives to teach her students to become more literate in those realms. In addition to being a seasoned embodiment expert, she is a mother and writer working on a book of poetry.
Image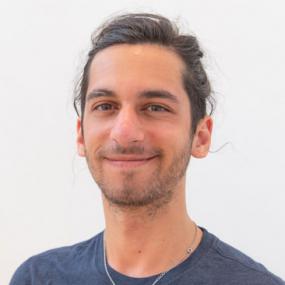 William Defebaugh
Trained at Laughing Lotus Yoga Center in New York City, William's Vinyasa and restorative classes are designed to be in sync with the astrological and Ayurvedic seasons. They incorporate mythology, mantras, pranayama, chakra balancing and Reiki—all intended to facilitate deeper harmony between his students and the world around them. As for his own astrological leanings, William is a Taurus sun with a Scorpio rising sign, so according to him, you can expect grounding practices rooted in the wisdom of mystic traditions. 
Image
Lindsay Tyson
After completing her degree in Art History at The University of Notre Dame, Lindsay moved to New York City to pursue a career in public relations. It was here that she began her deep dive into yoga—and experienced a profound connection with herself and with others that has kept her coming back to her mat ever since. She did her first teacher training at Pure Yoga in 2009 and has done subsequent trainings at Jivamukti Yoga School and advanced work with Rodney Yee and Colleen Saidman Yee at Yoga Shanti. As a teacher, Lindsay seeks to help students cultivate a feeling of freedom and an awareness of their own strength and ability. Her classes incorporate creative Vinyasa sequencing with meditation, yogic philosophy and good music.
Karla Misjan
Karla's instruction draws upon her years as a ballet dancer, infusing flowing movement with the more technical approach from the Iyengar yoga method. With a heavy focus on alignment and awareness, her precise yet playful vibe guides students through tenderly crafted sequences that are coupled with an approachable take on spiritual philosophy. Karla has completed over 800 hours of teacher training through YogaWorks and a 100- hour advanced training at Yoga Shanti—and continues to study with Rodney Yee and Colleen Saidman Yee. She is the co-founder of SYNCSTUDIO in Williamsburg.
Image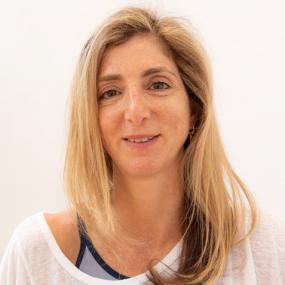 Rima Rabbath
In her classes, Rima effortlessly—yet deliberately—blends ancient wisdom, alignment cues, humor and carefully curated music. Her unique interest in her students' progress and transformation has earned her a loyal following. As an advanced certified Jivamukti Teacher, she has been entrusted with furthering the method's reach by facilitating the Jivamukti teacher trainings, leading immersions and retreats globally and mentoring apprentices at the NYC-based school. Rima is a long-time Lululemon ambassador, and she is also the co-founder of Yoga Souk Beirut, which opened its doors in her native Lebanon in the fall of  2016. 
Lisa Weinert
Lisa earned her 500-hour certification through YogaWorks in New York City with additional certifications in restorative, therapeutic and trauma informed yoga. She strives to create a calm and inspiring environment in her classes, where students are free to relax, release and renew. Believing that yoga and writing go hand in hand—each unlocking the stories we carry—Lisa created the Narrative Healing Program in 2016 and offers retreats, workshops and classes, designed to help writers reconnect to their bodies and feel empowered to launch their work into the world. 
Image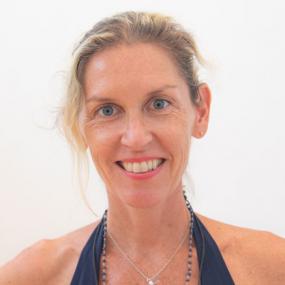 Karri Jinkins
Karri has over 20 years of experience teaching yoga, meditation, Ayurveda and nutritional counseling to people looking to improve their health, as well as to those suffering with conditions such as anxiety, obesity, exhaustion, hormonal imbalances, auto-immune diseases and depression. She specializes in women's health and immune-functioning through all phases of the reproductive, perimenopausal and post-menopausal periods. Karri is a contributing author for the book Yoga Sadhana for Mothers and has written for various digital sites including The Huffington Post and Archetypes. She earned a Bachelor of Arts degree from the University of Wisconsin, Madison.
Image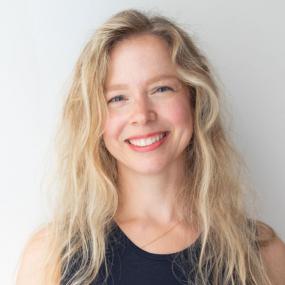 Chrissy Carter
Chrissy has been sharing her love of yoga and meditation for over 15 years. Her teaching style inspires thoughtfulness and self-inquiry, empowering students to become their own teachers. She is known for her experienced eye and her ability to translate complex ideas into relevant, actionable concepts, and has been training and mentoring yoga teachers at YogaWorks for over a decade. Her blog, H(OM)E®, explores the art of mindful living through the lens of yoga, food, style and life.
Image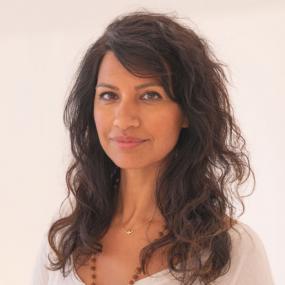 Manjit Devgun
Manjit was born to Indian parents of Sikh Punjabi descent, raised in England and now resides in New York City. Her parents have been instrumental in the development of her culture-based spirituality and in teaching her traditional Indian hymns and mantras, which bring to life the healing power of sound and music. When she was a girl, Manjit's grandmother would read her palms— a skill she helped her granddaughter cultivate. Today, Manjit uses this sacred gift to help tailor personal wellness sessions for clients that include meditations, Sekhem (an ancient Egyptian energy healing), sound therapy and spiritual counseling. Manjit has also created corporate wellness programs for brands such as Chanel, leads meditation workshops and does private palm-reading sessions in New York City. 
Image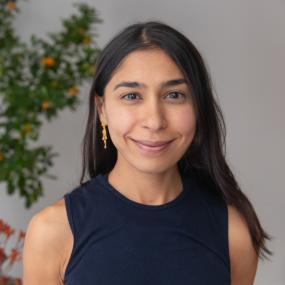 Dalal Arnold
Born and raised in Kuwait, Dalal fell in love with the practice of yoga upon moving to New York City. She quickly discovered the capacity of the asana practice to help us balance our minds and conquer our senses. After earning an MFA from Parsons in 2012, Dalal received a 300-hour training at Yoga Shanti, a 300-hour training at Jivamukti and 800 hours of oversight from her beloved teacher and mentor Rima Rani Rabbath. She is a devoted yoga student and practitioner who prides herself on carefully crafted sequences combined with skillful hands-on assists. Dalal's classes are a thoughtful invitation to experience yoga as a method to refine your attention on the present. 
Image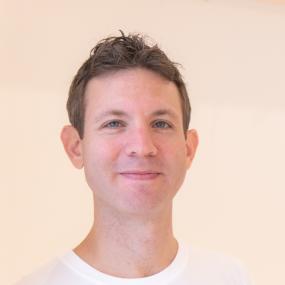 Jonathan Breshin
After suffering a debilitating wrist injury working as an electrician, Jonathan endured years of chronic pain and tried many unsuccessful treatments: surgery, medication, injection therapy and physical therapy, until he was finally introduced to TCM (Traditional Chinese Medicine) and it's adjunct modalities, specifically martial and healing arts. Once fully recovered, Jonathan decided to dedicate himself to helping others. His TCM training has taken him all around the world to learn from some of the most accomplished masters in the field. He now works full time teaching people how to recover from their ailments and how to incorporate the traditional movement and breathing practices of Qi Gong into their busy lives.
Image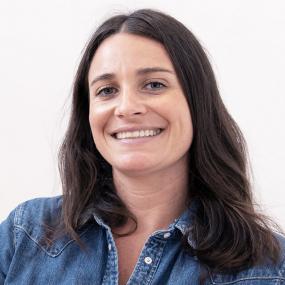 Raj Barker
Raj is a certified yoga instructor and holistic nutritionist hailing from Sydney, Australia. She first started practicing in 2008 and soon discovered the powerful side effects of coordinating breath and movement. The benefits of yoga slowly but surely began to shape and impact several aspects of her life. After practicing for several years, Raj completed an official 200-hour teacher training in Byron Bay. Raj has studied under mentors in both Sydney and New York, and is trained to teach Vinyasa, Hatha, Yin and Restorative yoga classes with a specific emphasis on breath with movement and alignment. Peppered with philosophy and coupled with inspiring music, Raj's classes will deliver creative sequences that leave you feeling moved, nurtured and at home in your mind and body. 
Image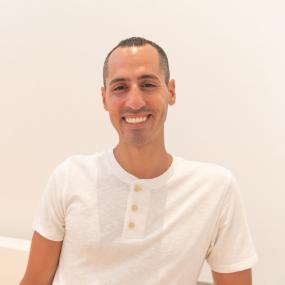 Jonathan Angelelli
Jonathan is a native New Yorker and a pioneer of holistic fitness with 19 years of coaching experience. His core passion is teaching people how to reach new levels of health and strength through primal movement and energy medicine. 
Jonathan holds a B.S. in Psychology from New York University, a black belt in Shotokan karate and has completed 11 other fitness certifications. He's been featured as fitness and tai chi expert on network television (ABC, FOX), is a published author, was rated the 7th hottest trainer in North America by Shape. In fact, he started exercising to "look better naked," but fitness radically transformed his life and helped him overcome drug addiction as a teen. 
In 2017, Jonathan finished a three-year medical Qigong training through the Institute of Traditional Medicine. He is an initiated lineage holder of the Taoist Dragon Gate School of Alchemy, an ancient healing tradition from China that dates back to the thirteenth century. He has presented his work and guest lectured at NYU and Union College, and led workshops and retreats into the wilderness. Among other accomplishments, Jonathan finished in 7th place at the 2016 Citifield Spartan Race and was a city finalist on Season 9 of TV's American Ninja Warrior. 
Image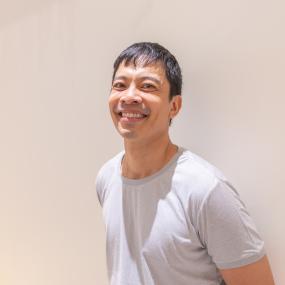 Juan Gamboa
The first yoga class Juan ever took was at Jivamukti in the late '90s—and it was a heart-awakening experience. Suffering from stress, anxiety, a poor diet and a terrible work-life (im)balance, he found a healing home in his yoga practice. In 2008, he earned a 200-hour training certification at Sonic Yoga. He furthered his studies through a 75-hour Kula training with Schuyler Grant in 2015, a 100-hour restorative yoga training with Mary Aranas at Pure Yoga in 2017 and a 300-hour meditation training at MNDFL under Lodro Rinzler in 2018. Previously, Juan studied Chemistry at The College of New Jersey and earned his M.S. In Chemistry from Rutgers University. He worked as a research scientist for pharmaceutical companies, such as Merck, Sanofi and Celgene, as well as spending time in the financial industry. He has deep empathy for all students, but especially for those who struggle with finding the balance between work, rest and play. He has now been teaching yoga in New York City for a decade and has led yoga retreats in Dubai, Thailand, Sri Lanka, Goa, Manila, Nicaragua and Columbia.
Image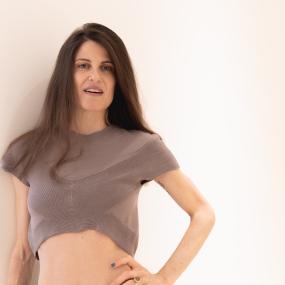 Leslie Helpert
Leslie is the creator of Therapeutic Vocal Performance Technique, a voice-based, somatic practice that combines her more than 20 years as an international composer/performer, multi-spectral artist, holistic coach and yoga educator. Drawing from in-depth experiential research in the fields of traditional earth-based wisdom, the sciences and multiple healing approaches, Leslie has worked with thousands of clients worldwide, from main-stage TED speakers to high-security prisoners, supporting the creative wellness of individuals, organizations and institutions. She holds a Masters of Music in Performance and Production from the Berklee College of Music, with a focus on Holistic Productivity/Practice Technique. Leslie brings "The Calling" to THE WELL, a voice-incorporated somatic movement practice where participants engage with the voice to increase well-being, presence, breath and balance. She also teaches two all-level yoga classes, each a depth-based asana practice, reaping from her 20 years as a yoga educator.
Image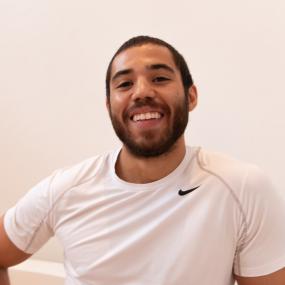 Alexander Garcia
Born and raised on Long Island, Alexander began boxing at eight years old and competed throughout his childhood and adolescence. Later, thinking he would build a career on Wall Street, he attended the New York University Stern School of Business on a full scholarship. He graduated in May 2015 with a B.S. in Economics and Global Business. 
Shortly after, Alex competed in the New York Daily News Golden Gloves, winning all five bouts. After his final fight at Brooklyn's famed Barclays Center, he was given the Mark Breland Outstanding Fighter of the Year Award. Following his victory, Alex returned to the financial sector as an investment consulting associate at a leading firm. A year later, he began missing his favorite sport and made a pivot to become a full-time boxing coach and certified personal trainer. His services are for the everyday New Yorker seeking to get in shape, learn self-defense or simply to have some fun "punching stuff." In Alex's words, he aspires to help clients grow by adopting the mindset of a champion.
Image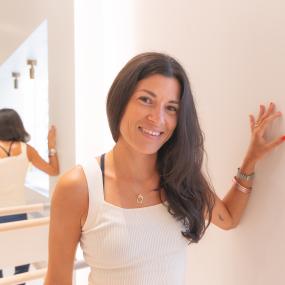 Chelsea Dornan
Chelsea credits her active childhood growing up in Brisbane, Australia with fostering her love of health and fitness. She discovered yoga when she moved to New York City and wanted to quiet her mind and move in a way that healed and opened her body. Chelsea completed her 200-hour certification at Prana Power Yoga and is now a yoga teacher and NASM certified personal trainer. Chelsea believes in finding a balance in life, and loves to indulge in good food, good wine and good times with friends. She lives in Brooklyn and takes frequent trips to Long Beach Island, New Jersey—as well as to global destinations— to soak in as much nature as possible.
Image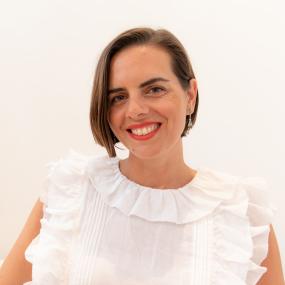 Gemma Gambee Lewis
As a meditation and spiritual teacher, Gemma's aim is to nurture the integration between the spirit and the mind. After a 20-year career in international fashion modeling, trend forecasting and brand building, she classically trained for more than two decades in the traditions of Yoga, Bhakti, the Vedas, Vedanta and Kashmir Shaivism. When she is not meditating, she's usually immersed in creative pursuits such as drawing, painting, brand strategy work. Gemma is also a beloved meditation teacher for Quiet Mornings at MoMA.