Shelby Deering
Updated: 09/28/2022
The designer of the tranquil spaces of THE WELL shares her interior design tips to achieve a serene vibe in your own space.
Over the last few years, our homes have become more important than ever. Throughout the pandemic, we saw them function as offices, gyms, schools, restaurants — and, of course, our own little corners of the world where we were able to find relief from daily pressures and anxiety.
Because of this shift, it's no wonder that people have made efforts to refresh their living quarters to focus more on health, wellness and self-care. After all, when the environment around you feels like a calming refuge, those peaceful vibes can directly impact how you feel.
That philosophy is at the heart of THE WELL's interior design. Our New York City location houses a full-service spa, restaurant, relaxation lounge and rooms for meditation, mindful movement, massages and more, and Liubasha Rose, Creative Director of Rose Ink Workshop, is the aesthetic visionary behind all those ahhh-inspiring spaces.
"The design started with the thought of movement, as a path for transformation. With that also came the idea of how gentle movement can be," she says. "So, the idea of soft curves started to give life to and sculpt the architecture of the space. We wanted to create a sense of fluidity and sourced materials that evoke textures found in nature."
Here, Rose shares how to infuse your own space — whether that's a four-bedroom home or a studio apartment — with serene touches to instill a sense of calm.
Keep it Natural
A soothing color palette can be softened even further through natural materials, something that Rose used in abundance throughout THE WELL. Think white-washed wood, concrete, cork, seagrass and even crystals like quartz and selenite. These are stylish, and peaceful, ways to welcome the outdoors into your home.
Focus on Lighting
Lighting is extremely key in many of THE WELL's spaces. It has the power to soothe or energize. Rose explains that in the Meditation Dome, you'll find a light in the center of the space that's able to transition from color to color — something that can mimic circadian rhythms.
In your home, she recommends using dimmer switches to create a soft glow in a space or light bulbs that can change hues at the command of a smart device. For example, yellow light has been known to increase feelings of happiness, while blue can encourage chill vibes.
Turn to Scent
THE WELL is known for its mists and oils that inspire tranquil feelings, and you should bring that scent-centric focus into your homespace, too. Rose loves to use essential oils such as ylang ylang, peppermint and lavender at home, particularly in a diffuser.
She says, "A diffuser with a calming essential oil sets the tone for a centered and peaceful day. I also love to diffuse orange and rosemary scents during the summer months."
RELATED: Use Your Senses to Sleep Better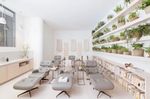 Green it Up
Scientific studies have proven that plants can increase feelings of relaxation. Plants make frequent appearances in THE WELL, from the wall of plants in the Reflexology Lounge to the hanging plants gracing THE WELL Kitchen & Table.
"Having plants is great to purify the air as well as bring peace to any space," says Rose. "I love succulents—they are sculptural and easy to maintain. Hanging Vanda orchids are gorgeous and unexpected. Dried lavender is my current favorite. Stacked in a basket or in a vase, the smell is divine and very calming."
Nourish Your Eyes
The saying "you eat with your eye first" may have more meaning than we thought: Science shows that simply looking at nutritious food can provide a powerful cue to eat more healthfully. Rose directly practices this approach in her own home, saying: "I love to display my fruits and vegetables in a wooden bowl in the kitchen."
In THE WELL Kitchen & Table, she took a more subtle approach: "We created a wall of 40 original hand-painted watercolor artworks of herbs by New York artist Matt Timms. The herbs were picked for their nutritional and holistic qualities," Rose explains.
Get Organized
Marie Kondo made purging an international pastime, and Rose also finds that decluttering and organizing helps her feel more serene. "At THE WELL, we designed lots of built-in millwork cabinets to create a clean aesthetic, and we also implemented a strategic use of credenzas that hold (and hide) supplies throughout the space."
You can do the same in your home by ditching or donating things you don't use and then storing your essentials in eye-pleasing furniture pieces that contain storage.