Prep these cleanse-friendly recipes ahead of time and have a healthy meal ready whenever you need it.
Chicken Cacciatore
Adapted from Louise Keats
Ingredients:
6 chicken thigh cutlets
2 tbsp olive oil
1 cup mushrooms of your choosing, sliced
1 red onion, thinly sliced
4 ripe tomatoes, chopped
4 garlic cloves, chopped
1 red bell pepper, deseeded, chopped
1 yellow bell pepper, deseeded, chopped
1 carrot, peeled, chopped
1 cup chicken broth
1 cup cherry tomatoes
1/4 cup kalamata olives, pitted
2 tbsp chopped fresh oregano leaves, plus extra sprigs, to serve
Directions:
Season the chicken cutlets well. Heat 1 tbsp olive oil in a large non-stick frying pan over medium-high heat. Cook the chicken for 2-3 minutes each side or until browned all over. Transfer to a plate.
Add the mushroom to the pan and cook, stirring, over medium heat for 3-4 minutes or until softened. Transfer to a bowl. Add the remaining 1 tbsp oil to the pan. Add the onion and cook, stirring, for 2-3 minutes or until just beginning to soften.
Add the chopped tomato and garlic. Cook, stirring, for 3-4 minutes, until softened. Add the bell pepper and carrot and cook for 2 minutes.
Return the chicken and mushroom to the pan. Add the stock, grape or cherry tomatoes and the olives. Bring to a boil. Reduce the heat, cover and simmer for 20 minutes. Uncover and simmer for an additional 20 minutes or until the liquid has reduced and the sauce has thickened. Stir in the chopped oregano. Season.
Divide the chicken cacciatore among serving bowls and scatter with extra oregano sprigs.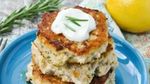 Rosemary Lemon Chicken Patties
Adapted from My Suburban Kitchen
Yields 4-5 patties (batch cooking for a one-person household). If cooking for more than one person, double the recipe.
Ingredients:
1 lb ground chicken
2 tbsp paleo sour cream (optional; recipe below)
1 1/2 tsp fresh rosemary, finely chopped
1 tsp salt
1/4 tsp crushed red pepper
3 tsp garlic paste
Zest of 1 lemon
1-2 tbsp olive oil
Directions:
In a large bowl, combine ground chicken, sour cream, rosemary, salt, crushed red pepper, garlic paste and lemon zest. Using hands, gently combine. Form into 4-5 patties, pressing thumb slightly into middle of each formed patty.
Heat oil over medium heat in a large skillet. Cook each of the chicken burgers for about 5-8 minutes on each side or until cooked through.
Paleo Sour Cream
Adapted from Paleo Cupboard
Serves 6
Ingredients:
1 can full fat coconut milk, left in the fridge overnight
1-2 tbsp fresh lemon juice or apple cider vinegar
1/8 tsp sea salt
Directions:
Place the can of coconut milk in the refrigerator for at least 6 hours (or overnight). This will cause the cream to separate from the milk.
Open the can of coconut milk and scrape out the cream into a medium sized bowl. (Hint: Open the can from the bottom and pour the milk out into a separate container before scraping out the cream. Save the milk for smoothies and other recipes.)
Whisk the sea salt and the lemon juice or vinegar into the cream until well combined. Taste and add more lemon juice or sea salt if needed.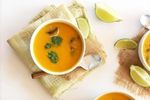 Tom Kha Gai Butternut Squash Soup
Adapted from The Minimalist Baker
Ingredients:
1 small butternut squash, cubed (skin and seeds removed)
1 14-ounce can light coconut milk
4 cups veggie broth
1 small shallot (thinly sliced)
3 tbsp grated ginger (1 small knob yields about 3 tbsp)
2 stalks lemongrass (cut into 6-inch pieces for easy removal before serving)
1 cup mushrooms (sliced)
1 tbsp Red Boat Fish Sauce (optional)
1/2 medium thai chili or serrano pepper (thinly sliced, seeds mostly removed)
For serving: lime (quartered), fresh chopped cilantro and basil for garnish
Instructions:
Preheat oven to 400 degrees F. Add butternut squash to a baking sheet and toss with 2 tbsp olive or coconut oil and a bit of sea salt. Roast for 12-15 minutes or until tender and cooked through. Set aside to cool slightly.
In the meantime, add coconut milk, vegetable broth, ginger, lemongrass and shallot to a medium saucepan and bring to a boil. Then lower heat to a simmer. Add fish sauce (optional) and sliced pepper and stir.
Add butternut squash to a food processor or blender with 1 cup of the broth and purée until smooth (amount as original recipe is written — adjust if altering batch size). Add back into the soup and stir until well combined. Add mushrooms and cook for an additional 5 minutes.
Taste and adjust seasonings as needed.
Before serving, discard lemongrass (if you used fresh stalks). Garnish with fresh lime juice, fresh basil and cilantro.
Serve over cauliflower rice or on its own. Store leftovers covered in the fridge for several days. Freeze for longer term storage.
Note: If you can't find fresh lemongrass, sub 1 heaping tbsp lemongrass paste (found in the herb section) for the 2 stalks lemongrass.

Shepherd's Pie with Mashed Cauliflower
Adapted from The Sophisticated Caveman
Serves 6
Ingredients:
2 heads cauliflower cut into large florets
1 large onion diced
2 carrots diced
2 ribs celery diced
3 cloves garlic minced
1 1/2 pounds ground lamb or beef
2 tbsp tomato paste
1/4 cup Siete Hot Sauce (or other sugar-free hot sauce)
1 tbsp fresh thyme
1 tbsp fresh parsley
1 cup beef stock
1 tbsp arrowroot powder
3 tbsp + 1 tsp ghee divided
1 +1/2 tsp sea salt divided
3/4 tsp black pepper divided
Directions:
Preheat the oven to 400 degrees F.
Pour a few inches of water into a large pot lined with a steamer basket and bring it to a boil. Add the cauliflower florets, cover and steam until they are very tender, about 10-12 minutes.
Using a hand mixer or food processor, blend the cauliflower with 2 tbsp of ghee, 1/2 tsp of salt, and 1/4 tsp of black pepper until smooth.
Meanwhile, heat a tbsp of ghee in a large skillet over medium high heat. Add the onion, carrot, and celery and cook until tender, about 5-6 minutes.
Add the garlic and cook until fragrant, about 30 seconds.
Add the ground lamb or beef and cook until brown.
Stir in the tomato paste, hot sauce, thyme, parsley, 1 tsp of salt and 1/2 tsp black pepper.
Dissolve the arrowroot powder in the beef stock, then add to the skillet. Bring to a simmer and cook until the mixture thickens, about 5 minutes.
Lightly grease a 3 quart casserole dish with the remaining tsp of ghee. Add in the meat mixture, then spread the mashed cauliflower in an even layer on top.
Bake for 30-35 minutes, until the top turns golden brown.
Allow to cool for 5-10 minutes before serving.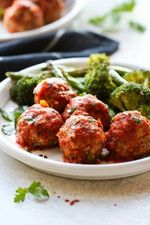 Italian Turkey Zucchini Meatballs
Adapted from The Real Food Dietitians
Yields 28 meatballs
Ingredients:
2 lb ground turkey (may sub ground chicken, beef or bison)
2 cups shredded zucchini, loosely packed
2 tsp dried Italian Seasoning
2 tsp garlic powder
1 tsp onion powder
1/2 tsp crushed red pepper flakes
1 tsp sea salt
1/2 tsp black pepper
Directions:
Preheat the oven to 400 degrees F. Line a large baking sheet with parchment. Set aside.
Place and spread the shredded zucchini out on one half of a double layer of paper towel, top the zucchini with another double layer of paper towel or fold the paper towel over the zucchini and press down with hands to absorb moisture from the zucchini.
Combine all of the ingredients in a bowl and mix with a spoon or clean hands.
Form into 28 golf ball-sized meatballs and place on the baking sheet.
Bake for 18-20 minutes or until meatballs are cooked through and insides are no longer pink.
Serve as is or toss with a cleanse-friendly marinara sauce like Primal Kitchen Marinara Sauce!
Notes:
Feel free to change up the spices and herbs with what you have on hand. Basil, oregano, thyme, rosemary or a mix of them.
When prepping the meatballs ahead, allow them to cool to room temperature and then place them in an airtight container and store in the fridge for up to 5 days or in the freezer for up to 3 months.

Bison Chili
Adapted from AutoImmune Wellness
Serves 4-6 (batch cooking for a one-person household). If cooking for more than one person, double the recipe.
Ingredients:
2 tbsp coconut oil
2 large onion, chopped
4 cloves garlic, minced
4 cups bone broth (or vegetable broth)
2 parsnip, chopped
2 carrot, chopped
2 beet, grated
2 tbsp oregano, fresh or dried
2 tsp onion powder
1 tsp sea salt
1 tsp garlic powder
2 pound grass-fed ground bison
A few parsley sprigs, for garnish
Directions:
Heat the coconut oil in a heavy-bottomed pot on medium-high heat. Once melted and the pan is hot, add the onions and cook, stirring for 7 minutes, or until the onions are translucent. Add garlic and cook for another 3 minutes.
Add bone broth, parsnips, carrots, grated beets and all of the spices except for parsley. Bring to a boil, turn down to a simmer, and cook, covered, for 20 minutes.
Meanwhile, brown ground bison in a skillet over medium high heat, stirring occasionally so that it is browned evenly.
Add the ground bison to the vegetables and simmer, covered, for another 15 minutes.
Serve garnished with fresh parsley.