THE WELL Q&A: MaryRuth Ghiyam
The health educator and founder shares her life-changing choices.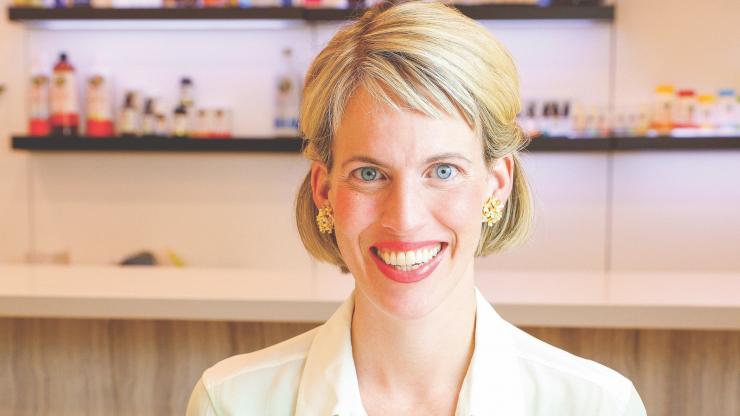 MaryRuth Ghiyam is a certified health educator, nutritional consultant and chef. After the premature passing of her brother and father, and her mother's diagnosis of two (thankfully benign) brain tumors, she traveled the country to learn about the body's own healing powers. That journey led her to develop MaryRuth Organics, a family-friendly wellness brand, and to author her new book Liquids Till Lunch.
What brought you to wellness?
The sudden passing of my 42-year-old dad and my 17-year-old brother made me very interested in living a healthier life.
What does wellness mean to you?
Creating a daily routine or a structure that allows me to be happy and chase after my passions. Structure creates freedom.
One lesson you'll take away from the COVID-19 pandemic?
How amazing it is to be in person with people! I will never take that for granted again.
Name three non-negotiables in your life.
No smoking, no drugs and no alcohol
The book you own that is the most dog-eared?
Favorite quote?
"Everyone overestimates what they can do in one year and underestimates what they can do in 10 years."
Snack you pack when you're on the go?
Instagram accounts that get the most likes from you?
Best beauty/grooming secret?
Learn to do a DIY manicure on YouTube. Life-changing!
Morning and/or bedtime rituals?
Stretching is my morning ritual. At night, I take my liquid nighttime multimineral and try to give my husband, David, two compliments.
Wellness travel essentials?
Eye mask, white noise machine and liquid probiotic
The key to a good night's sleep?
Three deep breaths before bed and magnesium
When you really need to chill out you...
Listen to Spotify or sit in the sunshine for 15 minutes
Food philosophy?
Chew your food and eat what you love! Also, eat more plants.
How do you take your coffee or tea?
Tea with monk fruit sweetener and coconut milk
Hydration strategy?
Drink half your body weight in ounces in water daily!
Simple smoothie recipe?
Banana, strawberries, romaine, spinach and some ice
What's sacred to you?
My family — which includes 4 children under 4!
Last time you laughed — and at what?
My husband makes me laugh every single day when he does an impersonation of me.