THE WELL Q&A: Manjit Devgun
The renowned meditation teacher on healing the past and the key to a good night's sleep.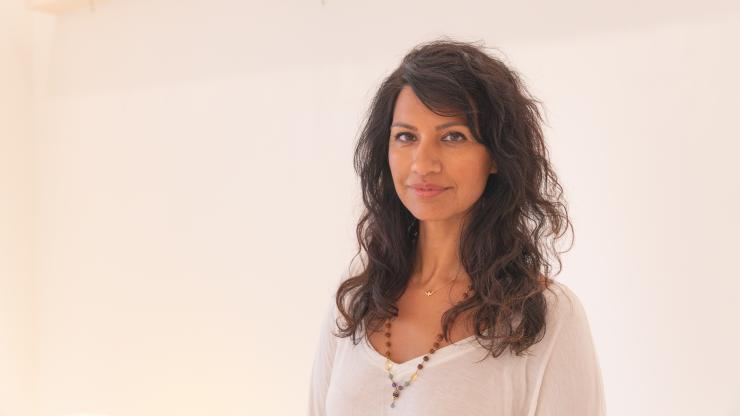 What brought you to wellness?
I was born into the Sikh faith and I grew up with my parents playing a major part in running the local Sikh Temple. I started singing Kirtan and mantras on the stage with my mother and my brothers. That was the foundation for everything.

My family has been my biggest influence — singing these beautiful hymns would make me cry with happiness at a young age because I could feel the power of sacred word and the healing energy of music. My mother influenced me to do Reiki and sing, my father taught me sacred prayers from the scriptures, my Grandmother taught me how to read palms and my cousin's wife taught me Sekhem healing energy, an ancient Egyptian healing modality similar to Reiki. It's a family affair.
One lesson you'll take away from the COVID-19 pandemic?
Don't give into the fear. There was a moment around week two when I started listening to everyone around me. I began going down the rabbit hole of theories and stories and news. I felt that fear for a day and thought "No," and I went back to my baseline of "It's not what happens, it's how you go through it."
What does wellness mean to you?
It is a connection of mind body and spirit. I guide my clients to heal their past so they can be completely present and then create the best future for themselves.
Name three non-negotiables in your life.
Meditation, learning continuously and a good night's sleep
The book you own that is the most dog-eared?
Favorite quote?
People show you how they feel. It's up to you to believe them.
Snack you pack when you're on the go?
Instagram accounts that get the most likes?
Best beauty secret?
I make my own face oil by placing 10 drops of frankincense essential oil in a small bottle of Radha rosehip oil and send some Sekhem energy into the bottle. Sekhem energy is the energy healing modality practice I do from Egypt — similar to Reiki.
Morning and/or bedtime rituals?
Sunday night bedtime is my favorite... Shamanic Journeying (a deeper meditation practice to ask your higher self or your subconscious mind questions about your life or past life) followed by an Epsom salts bath, candles and good, sexy R&B music.
Wellness travel essentials?
I mix a few drops of essential oils such as neroli and jasmine in a bottle of apricot oil and use that as my body lotion. I love all the oils that remind me of my mum and India.
The key to a good night's sleep?
Ummm, I could write a book here. Managing stress throughout the day and healing any past trauma. Also, don't sleep with your phone next to your bed and avoid watching TV right before going to sleep.
When you really need to chill out, you…
Light candles, burn sage and play good R&B music
Food philosophy?
 I eat mainly vegan. No processed food, but hey — have that cookie once in awhile when you need it.
How do you take coffee or tea?
PG TIPS TEA with oat milk and honey — my favorite drink.
Simple smoothie recipe?
Banana, coconut meat, three dates, oat milk, cinnamon and nutmeg.
Preferred mode of movement?
When you feel a cold coming on you…
Drink limewater and take monolaurin — a natural supplement of lauric acid (also found in coconut fat), which is produced naturally in the body, but gets depleted when we get sick. It acts as a natural anti-bacterial so every time I start to feel a cold or fever coming on, I take one or two pills and it really helps.
Last time you laughed?
I laugh all the time. I crack up at my own corny jokes. Don't blame me, blame the lockdown. Wait... I've always been like this!