Krista DeMaio
Published: 10/18/2022
Facials aren't just relaxing, feel-good beauty treatments — they serve a vital role in achieving healthy skin. When performed by an experienced esthetician who uses active ingredients (THE WELL uses scientifically proven products from Biologique Recherche) and advanced techniques and tools, a facial can deliver highly specific results — both instantly and over time.
So whether you're wondering how to get clear skin, want to even out your tone, reduce puffiness, lift the droop or brighten your complexion, THE WELL has a facial for you. Below, the facial (and the best skincare products) that will help you crush your skin goals.
Skin Goal: Even tone
"We customize this treatment using products to target your individual skin needs," says THE WELL esthetician Miriam Cardoos. In this case, the products focus on exfoliating to slough off dead, dull skin at the surface, revealing brighter, more even-toned skin. The treatment includes a double cleanse, a relaxing massage, extractions if necessary, chemical exfoliation with a mix of gentle acids, a calming mask with cold therapy to soothe any redness. "For best results, you want to get the facial once a month, and use the products (and SPF!) at home daily," says Cardoos.
Your must-have product: Biologique Recherche Lotion P50 PIGM400
Lotion P50 is known as a facial in the bottle, but this formulation also includes antioxidants and extracts, such as mandelic acid and niacinamide, to brighten up dark spots.
RELATED: Maskne is Back: Now What?
Skin Goal: Clear skin
The Hyper-Customized Facial uses products that can be tailored to acne-prone skin. Plus, "the added thirty minutes of treatment time can aid in calming the skin and reducing redness after extractions," says Cardoos. The addition of a cold seaweed mask can help soothe skin and reduce sebum (oil excretions).
The microdermabrasion add-on does another job: "Microdermabrasion is mechanical exfoliation," says Cristina Klein, lead esthetician at THE WELL. A facial treatment with microdermabrasion is performed with a machine that disperses crystals onto the skin, which causes mild abrasion, and then suctions them back up, along with the outer-most layer of skin. It not only helps clear clogged pores via a deep exfoliation, but it also helps fade dark spots and scars caused by acne. Someone with moderate to severe acne may not be a good candidate for microdermabrasion, however, estheticians will be able to advise in the room.
To keep skin clear, Cardoos suggests getting this facial as often as every three weeks.
Your must-have product: Biologique Recherche Serum Complexe Iribiol
This lightweight serum helps regulate sebum production with Zinc PCA and salicylic acid, which helps to prevent future breakouts.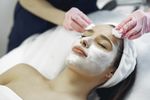 Skin Goal: Radiance
During this treatment, a tool with super-fine needles punctures the top layer of skin. The healing response triggers collagen production, but it also helps anything you layer on top absorb better, giving your skin an instant plump and glow. The facial includes Biologique Recherche Cocktail d'Actifs Régénérants Serum, which contains 57 active ingredients, plumping skin and leaving it with maximum radiance. "We finish with a soothing, plumping, and hydrating collagen mask with cold therapy to calm the skin," says Cardoos.
Your must-have product: Biologique Recherche Serum Y'all 02 Hydrating Elixir
"It's a hyaluronic acid, which gives you that extra glow and plumps the skin," says Klein. "It's a serum that makes people ask what you did to your skin."
Skin Goal: De-puffing
"This facial combines the power and synergies of three currents to stimulate the epidermal cells and regenerate the skin," says Cardoos. In doing so, it lifts, tones, sculpts, and depuffs the face, she says. It helps stimulate lymphatic drainage, which contributes to puffy under eyes. Microcurrents also aid in penetration of any product you apply to the skin's surface. As with the other facial treatments, the Remodeling Facial includes a double cleanse, a massage, a targeted mask, and application of Biologique Recherche serums and creams.
Your must-have product: Biologique Recherche Crème Contour Des Yeux VIP 02
This eye cream includes an oxygenating complex to detoxify under eye skin, as well as a cooling, metal applicator to depuff eyes on contact.
RELATED: Your Healthy Summer Skin Checklist
Skin Goal: Tightening
This treatment combines both the remodeling microcurrent machine and the micropuncture lab. "Micropuncture is really about stimulating collagen, and the three current microcurrent machines sculpt and tone the face, giving you immediate results," says Cardoos. It also includes the double cleanse, a skin-plumping and hydrating collagen mask, and a customized blend of Biologique Recherche serums and creams such as Crème Elastin, which mimics amino acids in your skin, promoting elastin, a protein that keeps skin supple and springy.
Your must-have product: Biologique Recherche Serum Collagene Marine
This serum gives skin a tighter appearance by plumping it up and tightening the pores with hydrolyzed collagen.