The Healthiest (and Tastiest) Takeout Food
When you're cooped up at home, it's tempting to eat junk — but good nutrition is crucial when you're moving less or under stress.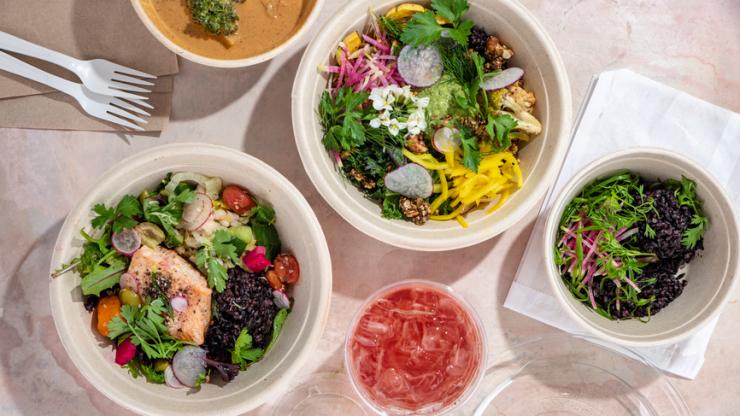 As you probably know, cooking from scratch is always the healthiest option, since you control the contents of your food. But as the world is ordered to hole up at home during the coronavirus outbreak and grocery store shelves are depleted, ordering food in or picking up takeout is an increasingly necessary part of staying well fed.
To help you make the best choices, we turned to our expert friends at Eat This, Not That! They've done the nutritional research so you can order in with some peace of mind. Another consoling thought: According to organizations including the CDC and the USDA, there is currently no evidence that COVID-19 has spread through food or food packaging.  
Finally, don't forget to tip your delivery people as much as you can afford. As The New York Times pointed out, the men and women dropping off your meals are now on the front lines of this viral war because they are coming face-to-face with the public.
Now, onto the food. Here's what to order by cuisine: 
WHEN YOU'RE CRAVING THAI…
Summer Rolls
Summer rolls are typically filled with lean proteins (such as chicken or shrimp) and veggies, making them a healthy choice —if you get them steamed, not fried. Pair them with a broth-based soup to make a meal.
Satay 
This app is simply grilled meat on a stick, slathered in a spicy peanut sauce. If you want to be cautious of excess calories or hidden sugar, ask the kitchen to go light on the peanut sauce or ask for it on the side. Double the order to make it a meal.
Thai-Style Vegetables
Laced with immunity-boosting ginger, garlic, and chilies, Thai-style vegetables combine powerful flavor with plant-based nutrients. Opt for brown rice (a more nutritious whole grain), if offered. 
Curry Dishes
Rice-based curries, regardless of color, are usually made with coconut milk. While high in saturated fat, it contains lauric acid, which has been shown in more than 60 studies to decrease the risk of cardiovascular disease. Not only that, it is also thought to assist the body in fighting infections caused by bacteria, viruses and fungi. If you're not going vegetarian, pick a lean protein such as shrimp or chicken.
WHEN YOU'RE CRAVING PIZZA OR ITALIAN …
Linguine Aglio E Olio
Made with pasta, olive oil, garlic, and hot pepper, this simple dish packs a powerful flavor punch without overdoing it in terms of fat and calories. Bonus: The capsaicin in hot pepper has been shown to mildly increase body heat and boost metabolic rate.
To add some blood sugar-stabilizing fiber to your meal (a must if you don't want to be ravenous soon after you finish eating), save half of your dish for the next day and round out your meal with a side of broccoli rabe or sautéed spinach.
Thin-Crust Pizza
Most of the evils of pizza lie in the crust. Typically made from refined white flour, pizza dough offers little nutrition and will spike your insulin levels, causing you to crave more. That means thin-crust pizzas are almost always the wiser option. Of course, if they offer cauli-crust, even better!
Half-Cheese Pie
Ordering your pizza with "half cheese" is an easy way to cut the saturated fat on a pie by 50 percent, especially if you have any sensitivity to dairy. Ask the maker to compensate with more veggies and herbs. 
Spinach Salad
At many restaurants, a spinach salad often includes things such as mozzarella, croutons, dried cranberries and sometimes, bacon. Leave those toppings off and order the dressing on the side so that you control the portion. Smarter yet, make your own with olive oil and vinegar or lemon juice — many store-bought and restaurant salad dressings have added sugar.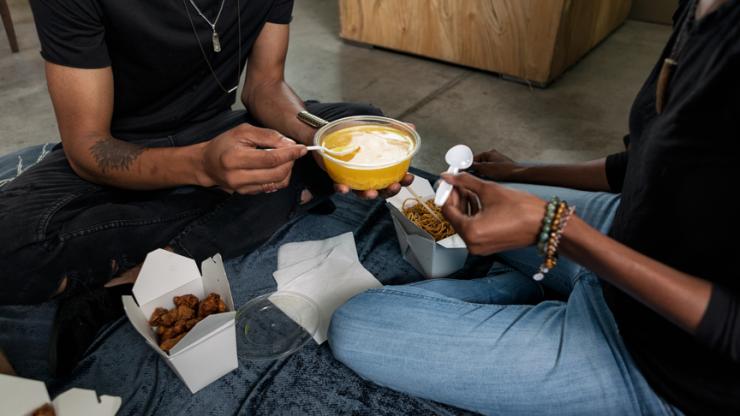 WHEN YOU'RE CRAVING CHINESE ...
Steamed Vegetable Dumplings
This is a fairly safe choice for obvious reasons. Dumplings with shrimp are also a fine idea, just ask for any sauce on the side. 
Steamed Chicken and Broccoli with Black Bean Sauce
When it comes to ordering a healthy dish, your best bet is to pick some kind of steamed meat and veggie combo with a side of sauce. Black bean sauce packs vitamins, fiber and protein.
Brown Rice with Steamed Veggies
The combination of brown rice (again, a more nutritious whole grain option than white rice) mixed with an order of steamed veggies makes for a satisfying dish. Pair it with an order of wonton soup for a heartier meal.
WHEN YOU'RE CRAVING JAPANESE ...
Edamame
High in protein and fiber and very low in calories, steamed soybeans make a good start to a meal. Request that your edamame come salt-free and apply it yourself to keep sodium in check if you have high blood pressure or are prone to bloating.
Miso Soup
Start your meal with miso soup—studies have found that fermented foods, like miso,  boost the health of your gut.
Tuna Roll
More than half of the calories in this simple, classic roll come from protein, making it a great light meal or a snack with substance. Plus, tuna is a prime source of docosahexaenoic acid, a type of healthy omega-3 fat. Ask if they offer rolls made with brown rice.
California Roll
One of the most popular menu items and it also just so happens to be one of the healthiest. It carries a dose of healthy fat from the avocado along with the cucumber and crab.
WHEN YOU'RE CRAVING MEXICAN ...
Chicken Fajitas
A heap of onions and peppers is a plus, but skip the cheese and sour cream to save 15 grams of not-so-healthy fat. Another tip: Use just one or two of the tortillas and stuff them full. Stash the rest in your fridge and use them to make breakfast burritos filled with eggs, veggies, black beans and salsa.
Bean Burrito
As long as your delivery joint uses whole beans (as opposed to refried), this could be one of the healthiest things on the menu. The fiber in beans lowers cholesterol and helps make you feel full.
Soft Tacos
Soft tacos are lower in fat than a hard-shell tortilla, and corn tortillas are a better whole grain option than refined flour versions. 
WHEN YOU'RE CRAVING GREEK OR MIDDLE EASTERN ...
Hummus and Veggies
Hummus, made from chickpeas, ground sesame seeds and olive oil, is packed with fiber, protein and healthy fats — but a large pita is usually just empty carbs. Ask for a side of veggie sticks instead or at the least, request a whole wheat pita.
Babaganoush
This tasty, creamy eggplant dip looks like it contains mayo, but it actually gets its rich texture from a mixture eggplants, tahini (sesame paste) and olive oil.
Fattoush Salad
Comprised solely of tossed greens, parsley, cucumber, tomatoes, bits of toasted pita and mint, it's hard to go wrong with this dish. Dress it with red wine vinegar and olive oil.

You might also want to check out Five Ways to Boost Your Immune System Naturally and 22 Foods Nutritionists Eat to Boost Their Immunity.