Although your schedule may not be as jam-packed with parties and travel plans as years past, it doesn't mean this holiday season isn't nerve-rattling. In fact, between rising virus rates, it's only natural that many of us feel even more stressed and down than usual.
Stress of any kind takes a toll, mentally and physically, and can make you feel more like the grinch than a cheer-filled elf. The reason: "When we're stressed out, our window to tolerate annoyances narrows, and we are more prone to anxiety, stress, poor judgment, impulsive decisions and racing thoughts," explains Charlotte Margulies, MSW, LCSW, a therapist at Aspen Alliance Counseling.
Luckily, it's possible to reframe this trying time and reduce tense emotions — and yes, even conjure happiness! Here, eight tips from mental health pros:
RELATED: Do You Have Crisis Fatigue?
"Taking time to care for yourself can have a calming effect on those around you."
1

Go back to the self-care basics

The wellness world's favorite buzzword, self-care doesn't just mean manis and bubble baths. It also means getting back to the basics. During tough times, focus on healthy foundations — like sleep, exercise and eating well — to build your resilience and broaden your capacity to tolerate stressful moments, suggests Margulies.

Also: Don't force it. Rather than making yourself commit a specific practice that you think you should be doing, ask yourself what makes you feel relaxed and revived. Above all, remember that self-care is a gift you're giving not only to yourself, but also to family, friends, partners and colleagues, since taking time to care for yourself can have a calming effect on those around you.

Here, some simple self-care practices that are easy to do, even on the busiest of days:
Make an effort to take deep, nourishing breaths throughout the day. (Here are four breathing exercises to try).
Carve out time in the morning for some meditation, journaling, reading or movement to start the day in a meaningful and mindful way.
Turn to your imagination. Consider joyful memories from your past that were filled with pure enjoyment.
Connect with the natural world by getting outside and getting some fresh air.
Make plans (virtually or safely socially distanced) with a friend or family member who brings you joy.
Simply spend some time alone and decompress.
2

Create a "menu of nourishment"

"When we are feeling stressed, the part of our brain that thinks logically literally shuts off," explains Lia Avellino, LCSW, THE WELL Advisor of Head & Heart. This means you won't have access to the resources that enable you to feel calm and collected when you start to get stressed or anxious.

The solution: When you aren't feeling stressed, take time to make a list of things that nourish you. Tap into your five senses to do so:
What sounds or music soothe you?
What sights (e.g., pictures, films, objects, things in nature) bring you a sense of peace? 
What smells transport you to a tranquil or happy time?
What tastes from the past or present fill you up?
What touch feels good and from whom?
3

Separate "worries for action" from the others

Many of us worry about things that we cannot control; this is our brain's attempt to keep us focused on our thoughts instead of our more painful and distressing emotions, Avellino explains. Instead, separate the worries that you can feasibly address or take action on, from those that are too big to take on.
4

Adjust your expectations

Living in the age of picture-perfect Instagram posts can be hard on anyone who isn't having the happiest holiday season. Try to release the idea that your experience needs to look a certain way. "When we get caught up in the culture of comparison fueled by social media we lose sight of the present moment," notes Margulies. "And the present moment is where we can discover joy."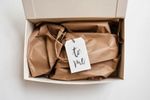 1

Acknowledge that it's a tough year

"Sometimes when we feel stressed, our inclination is to ignore it or bypass it with positive statements like 'It will get better,'" Avellino says. Instead, try to acknowledge all that you're holding right now — the pressure, the weight of a heavy year, the responsibilities, the worries and so on. Acknowledging stress can be the first step to feeling less of it.
2

Identify your top priorities this year

We may not feel up for doing it all and some of it may not even be possible, Avellino reminds us. Consider what feels most important to you this year. Is it quality time with loved ones? Is it ending the year on a successful note at work? Is it engaging in an act of self-preservation by turning off the news or disengaging from social media? "Instead of trying to 'do it all,' spend your energy and time on the things that feel most fulfilling," she suggests.
Spend your energy and time on the things that feel most fulfilling.
1

Create a personal mantra

A mantra is a statement to help affirm and inspire you. Consider a statement that grounds you and can be guiding words to live by in stressful times. Repeat it to yourself as a daily practice. And if you can't think of one of your own, consider borrowing one from this list.
2

Rely on a soothing squad

"When we feel stressed, many of us go into hero-mode, wanting to do it all on our own," says Avellino. But try not to go it alone. "Consider a person or group of people who makes you feel seen, soothed and secure," she suggests. Depending on others who you trust to acknowledge and support you is essential to working through difficult times. It can also be helpful to limit communication, when possible, with those who tend to ignite anxiety in you, giving yourself permission to prioritize the connections that feel good.