When I needed a gut check (in more ways than one), I turned to a 15-day reset program — and more than my diet changed along the way.
After a couple weeks of eating out and disrupted routines amidst the holidays (we all deserve a #treatyourself moment, right?), I started to feel the not-so-great effects in my skin, energy levels, digestion and most obvious to me, my waistline. It was time to take a gut check (pun intended) and give myself a much-needed reset.
Enter: THE WELL Cleanse, a 15-day program designed to restore gut health, boost energy, clear skin and make losing weight manageable. Essentially, the program involves eating whole foods, taking gut health supplements and protein powder and eliminating some potentially inflammatory foods (such as dairy, grains, alcohol and sugar). So when I had a stretch of 15 days without a ton of plans, I committed to Cleanse. Here's how it went.
Days 1 — 3
As THE WELL Cleanse is not about deprivation, I started out looking at these 15 days as a time to create new healthy habits and reintroduce the old ones that had fallen off. I also planned on incorporating mini self-care sessions every day as a thank you for the good I'm doing for my body, mind and spirit. These included morning dry brushing, followed by moisturizing with body oil (if you're in NYC, swing by THE WELL to pick up one from our self-care line), an at-home mani/pedi, Summer Fridays' Jet Lag Mask and some very early bedtimes!
My mood at first? I'll be honest: I felt a bit hesitant and regretful, as well as achy, exhausted, foggy and bloated. But I reminded myself that I'd committed to this — and was excited to see how I felt on the other side — so I forged ahead.
I started every day by chugging one liter of room-temperature water, a favorite wellness tip I learned from working at THE WELL. Most workdays I'm so busy right out of the gate, that 12pm will come around and I've barely touched my Healthish WB-1 Bottle. By drinking one liter as soon as I wake up, it's one less thing I need to think about and really starts the day on the right note.
I wasn't quite sure what to expect from the Clean Green Detox Protein powder, but thanks to a recipe from Health Coach Raj Barker, my morning smoothie was surprisingly delicious. I opted to blend the protein powder with almond milk, almond butter, frozen organic strawberries and spinach, which left me feeling full and satisfied.
I tried to keep lunch and dinner as simple as possible, focusing on the veggie-protein-healthy fat dietary guidelines. I leaned heavily on Daily Harvest, a meal delivery service, typically adding pasture-raised eggs to their (Cleanse-approved) Harvest Bowls for an extra protein boost, as well as anything that could be made in one simple sauté.
The mid-afternoon has always been a bewitching hour for me, when I usually crave caffeine or sugar. I typically am a decaf-only kind of gal, but had recently slipped into a cold-brew-coffee routine these past few weeks. Although one cup of coffee is allowed (and I planned to take advantage of that!), I was also eager to get back to the decaf-routine. For now, my mid-afternoon snack became a handful of cashews and a heaping mug of bone broth with ground ginger — which felt like a hug in a cup on chilly days in New York.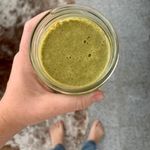 Days 4 — 6
These three days were the toughest stretch for me. I felt achy, unmotivated and both physically and emotionally exhausted. I really started to wonder when I'd begin to feel better. Nevertheless, I kept pushing forward.
I found a good groove in my morning routine. I woke up, drank my pre-poured liter of water, meditated for 10 minutes and enjoyed a cup of decaf coffee with almond milk. This held me over until between about 9am or 10am when I'd have my Clean Green Detox Protein smoothie — always spinach, almond milk, almond butter and alternating between organic frozen strawberries and blueberries.
At this point, I successfully dragged myself to the grocery store and had found some motivation (small, but mighty!) to cook. Always one to keep my kitchen adventures on the simpler side, I lived on egg scrambles with veggies, black beans, avocado and Trader Joe's "Everything But the Bagel" seasoning; simple sauteés and my go-to carrot-ginger soup recipe. It's a one-pot-plus-Vitamix formula that changes every time I make it depending on what's in my fridge — highly recommended!
Even though I was still feeling tired, I pulled myself together to exercise. One day I headed out for a 3-mile run on the West Side Highway, the next I did The Class by Taryn Toomey and rested the following. I was quickly reminded of the endorphins boost that comes with a good sweat session, and vowed to keep that going.
This stretch of three days also fell over a weekend, when I had plans to see some friends. The problem is, they'd be drinking. I wondered, do I go and simply not drink? Would it throw off my progress if I just had one? I ended up going, and since the gathering was outside and quite cold, I was surprised at how easy it was to just enjoy the steaming cup of peppermint tea in my Yeti thermos.
One aspect of the Cleanse I'd been loving so far: my daily self-care sessions. Dry brushing became a daily staple, both to stimulate my lymphatic system and get things flowing in my body first thing in the morning. I'd also found a new appreciation for warm baths with Herbivore Botanicals Coconut Milk Bath Soak, as well as at-home facial cupping from Aimee Raupp Beauty. I viewed this as the au naturale form of Botox, and was so fun to do while I binged Kevin Costner's Yellowstone.
RELATED: How to Start a Dry-Brushing Routine at Home
Days 7 — 9
Hot off the press — I started to feel better. My energy levels increased, my skin was glowing and I felt clearer and lighter, both physically and emotionally. The compliments started to trickle in, and the vain part of my brain realized I was starting to look better too. My colleagues commented on my enhanced Zoom complexion, and my hairdresser mentioned the definition of my jawline (seen even while wearing a mask!). I relished in this feedback and allowed it to recharge me for the second half of my Cleanse journey.
By this point, my mornings were a well-oiled machine (literally). Chugging one liter of water alongside extra supplements was followed by a short grounding meditation. I started blending cinnamon, coconut oil and grass-fed ghee with my decaf coffee, and loved both the buttery taste and the way the creamy concoction held me over until my Clean Green Detox Protein smoothie. On mornings I wasn't super hungry, I started to shake up the protein powder with cinnamon and almond milk and found this to be surprisingly delicious and filling.
My cravings started to kick in, but not in the way one would think when they hear the word cravings. Rather than dreaming about a heaping bowl of something warm and carby for lunch, all I wanted was salads. The veggie + protein + healthy fat dietary guidelines of the Cleanse had reeducated me on what type of meal made me feel satisfied. For lunch, I started to make different salad variations, starting with a base of arugula and spinach, topped with favorites like avocado, baked chickpeas, sunflower seeds, soft boiled eggs and roasted veggies including broccoli, beets and sweet potatoes.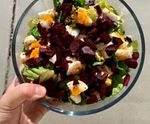 For afternoon snacks, instead of mindlessly grabbing a piece of dark chocolate, I thoughtfully (and intentionally) chose snacks that would fuel me — an organic Granny Smith apple with almond butter, coconut yogurt with a sprinkle of cinnamon or bone broth with crushed ground ginger.
RELATED: How to Snack the Right Way
During this stretch I was tasked with a challenge: going out to dinner while on the Cleanse. I did a pretty good job of navigating the menu, splitting a kale salad with chicken to start, followed by a cheeseburger (minus the cheese and the bun). Easy enough! I should admit I swiped a few french fries to satisfy the mouth-watering desire I experienced. No deprivation here!
My self-care sessions had become such a highlight in my day, and I took such pride in planning each one (including a haircut by my longtime "mane man" Marshall Lin). Journaling is another favorite form of self-care, so I dedicated 10-15 minutes each day to writing in my linen Shinola notebook. This allowed me time to ground down, be present in my mind and body and record all of the emotions that had surfaced during this time. I hadn't expected the Cleanse to ignite such an emotional release, but it did indeed, leaving me lighter and clearer-minded.
RELATED: How to Start a Journaling Habit
Days 10 — 12
I started to see the light at the end of the tunnel — as well as how far I had come. I was waking up earlier, felt my energy levels improving and had a renewed sense of motivation. My bloating had gone down, sugar cravings were basically non-existent and with each meal, I felt even better than before.
In the spirit of cleansing the past to make room for new beginnings, I also decided to move out of my apartment, where I'd lived for the last eight years. While I can't promise THE WELL Cleanse will ignite such a life-changing moment for everyone, I will say that spending this time slowing down and tuning inward really allowed me the space to feel what was right for my body, my mind and my soul.
Being a lover of routine, I began to appreciate how the Cleanse had transformed my mornings: water, supplements, meditation and coffee, followed by either a Clean Green Detox Protein smoothie or shake. Anticipating this routine took out any stress about planning, and allowed my mornings to run on autopilot.
Lunch and dinner over these few days were a blur of sautés and anything that could be made in one pan. Highlights included my take on a bolognese (made with ground turkey and served over zucchini noodles), spaghetti squash with vegan pesto and roasted tomatoes, as well as Shakshuka made with pasture-raised eggs and wilted arugula.
I continued my Cleanse-combination of movement — The Class, long walks with my beloved Bala Bangles and restorative yoga. Some days I'd just rest. My skin was clear and glowing, thanks to both the Cleanse and a Signature Dermaplaning Facial from holistic skin-whisperer Cali Brookes Strauhs. My body felt rested and nurtured from the mix of dry-brushing, warm baths and foam rolling that I started to incorporate as often as possible. The end was almost near.
RELATED: How to Safely Start Your Workout Routine
Days 13 — 15
All good things must come to an end. And yes, I'm talking about these 15 days of cleansing as a good thing. Proof: Even before I finished, I had reordered THE WELL Cleanse to restart the following month. (It's safe to do two rounds of the Cleanse at the time.)
I kept thinking about the social media meme: how it started — exhausted, achy, bloated and mentally blurry — vs. how it's going — energized, lighter (down several pounds), motivated and clear-minded. That I could have such a transformation within 15 days and without any deprivation made this an unbelievably eye-opening journey for me. I felt both in tune with and in control of my own body.
These final three days flew. The worst was over. I was back to feeling (and looking!) my best. The Cleanse taught me how to listen to my body — what foods made me feel good, as well as when (and how) to move in a way that added to my energy levels, rather than exhausting my tank.
I began to look ahead to maintenance, with a new understanding of how to keep a morning routine, build a well-balanced plate, incorporate daily self-care moments (however small) and navigate most restaurant menus — an arugula salad with olive oil, an order of meatballs and a side of roasted veggies. That, with a tequila on the rocks with lime, of course!
My parting words of wisdom? These 15 days are an opportunity for real change. But that change is really up to you. For me, I experienced an emotional release and reset that I would have never expected. I was able to let go and "cleanse" a lot of past patterns, relationships and even my apartment, and had a renewed appreciation for starting fresh. I truly believe that anyone can try the Cleanse, and take it as a chance to reset, begin again and make changes, however big or small.
Visit one of our locations and learn more about THE WELL Cleanse.