THE WELL Edit: What to Watch, Read and Listen to Right Now
We've curated some of our favorite ways to fill your days.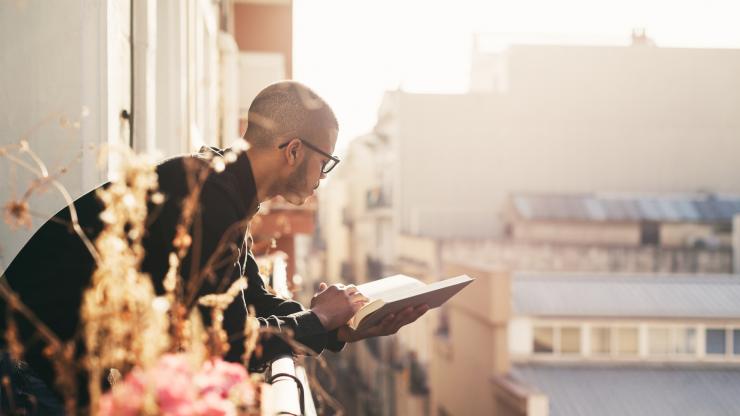 There is one thing that isn't in short supply in the Age of Coronavirus: content. But even with your now-ample free time, navigating what to take in can be overwhelming and consuming mindfully has never been more important. 
THE WELL is keeping up a schedule of programming that includes expert talks, guided meditations and Mindful Movement classes as part of our digital membership, so be sure to check that out. Here, other picks — some old, some new — that have special relevance at this historic and strange time that has much of the world cloistered at home.
PODCASTS
Functional medicine pioneer and Chief Medical Officer of THE WELL, Frank Lipman, M.D. hosts a broad range of conversations about wellness with guests such as nutritional neurologist David Permutter, M.D., beauty-empire builder Bobbi Brown and ultramarathoner Rich Roll — always bringing his open mind and expert perspective to the discussion.
If unpacking the science behind all-things-health helps you feel grounded in your personal journey, give "TEDHealth" a listen. From daily tips to the latest in medical breakthroughs, leading health professionals share their discoveries and tips from TED events around the world.
Shaman Durek is a third generation shaman and a women's empowerment leader. His guiding principle: Human beings have been sharing stories for hundreds of thousands of years, and with those stories come the emotional, spiritual, and physical knowledge of the ancients. Sharing that knowledge can heal and bring happiness into our modern society.
Staying inside has ignited a new passion for cooking, even in those who previously couldn't boil water. If you're ravenous for some cooking inspiration, these episodes from Bon Appétit feature chats with the world's best chefs and cooking techniques you can try at home, as well as exploring why food has the power to make us happy in the most challenging circumstances.
In times of heightened stress, we all can benefit from turning inward, but it can be really difficult to tamp down anxious thoughts. Meditative Story from Thrive Global is a unique listening experience that combines immersive storytelling from unique voices, guided mindfulness practices and tranquil music to take your mind on a journey that is both relaxing and captivating.
If there's one person who knows how to speak to our hearts — especially in a time when we've all "collectively hit weary" — it's renowned researcher and vulnerability expert Brené Brown. In her new podcast, she explores the human experience through moments of bravery and heartbreak and everything in between.
With sudden downtime, you may feel pulled toward self-reflection and deep thinking. "On Being," recommended by Lia Avellino, THE WELL's Director of Head and Heart, can serve as a portal with their "care package for uncertain times" — a collection of podcasts, poetry, meditations and reflections to help you process what's happening in the world. The host is Krista Tippett, a best-selling author and winner of the National Humanities Medal.
In their newly launched podcast, Whitney and Danielle, the founders of Sakara, a plant-based food delivery service and healthy-living company, help you "shine your brightest light... and let some much-needed magic into your life." Their aim is to pique your curiosity with conversations on everything from ghosts to gut health to explore the areas of life where science and spirituality coexist.
If you're having trouble drifting off, you're not alone. This podcast offers bedtime stories combined with relaxing music and mindfulness techniques to help you fall asleep fast and get the restful shuteye you need to keep your immune system functioning optimally.
BOOKS
A metaphysical must-read suggested by Valerie Oula, THE WELL's Director of Vibrational Energy Healing, is a journey both beyond yourself and into yourself. In it, Singer guides you through the intimate relationship you have with your own thoughts, memories and emotions to help you live more freely with your innermost being.
Recommended by Aimee Raupp, THE WELL's Head of Traditional Chinese Medicine, this book explores how everyday people can transform themselves and their lives. Through his understanding of spirituality and science, Dispenza educates on how you can change your thoughts, emotions and energy to improve your physical and mental states (as well as your health!) in an almost-supernatural way.
In the follow up to his bestselling book Genius Foods, Lugavere, a health journalist who specializes in the relationship between nutrition and cognition, gives actionable advice for making healthy choices in all aspects of your daily life — eating, exercising, sleeping, detoxing and more — in order to heal your mind and strengthen your body.
If you're motivated to use this time off to explore a meditation practice, Bliss More is a great place to start. Watkins, an international mediation teacher and lecturer,  provides modern-day tips for diving into an ancient practice that can make you happier and healthier, but that many people find intimidating when first starting out.
With everything going on today, we'd probably leave out the maybe in the title of this bestselling book by Lori Gottlieb, a psychotherapist and advice columnist. In it she offers a deeply personal yet universal exploration of heart and mind through reflections on her interactions with patients, as well as her own experiences with therapy.
Untamed

by Glennon Doyle
After overcoming "numbing addictions, cultural conditioning and institutional allegiance," Doyle, a Christian mommy blogger turned motivational speaker who divorced her husband and married a female professional soccer player, shares how to be brave in trusting ourselves and in honoring our bodies, our anger and our heartbreak, all packaged in a riveting memoir.
What has come into sharp focus in recent months is that there is really only one thing we can count on — the present moment. In his most popular book, renowned spiritual teacher Tolle asks you to leave your analytical mind behind and enter into a state of peace, surrendering to the now and embracing your true self. 
FILMS
Crip Camp
This newly released Netflix documentary (produced by the Obamas) explores the transformative experience of a summer camp for disable teenagers in the late 1960s, told through the eyes of a former camper. Located right down the road from famed Woodstock, New York, this groundbreaking retreat shaped the future of the disability rights movement and helped spark the discussion around inclusion.
Knock Down the House
The scrutiny and criticism of politics and politicians may be at an all-time high, but Netflix's Knock Down the House delivers hope. Released last year, it follows four progressive Democratic women who ran primary campaigns against established politicians in the midterm elections. One of the women, 30-year-old Alexandria Ocasio-Cortez, won a seat in Congress and has since become a dynamic political disrupter, advocating for her New York community and for minority women in politics.
Food Matters
Yes, you could binge your favorite shows right now (and there's nothing wrong with that), but why not feed your mind while you're at it? Naturopaths, nutritionists and doctors all weigh in on how healthy eating may be the cure to many health-related ailments in this documentary, available on Amazon Prime and Netflix.
Happy
It's easy to feel down (to put it mildly) about the state of the world right now. Redirect that despair with the award-winning documentary Happy (available on Netflix and Amazon Prime). It explores the field of positive psychology and speaks to people all over the world to discover that the secret to happiness is different for everyone — and that we have more control over it than we think. 
Heal
This progressive health documentary examines the latest science on how our thoughts, beliefs and emotions have a huge impact on our health and ability to heal. Through interviews with experts from a broad range of disciplines — medicine, homeopathy, mediumship, spirituality and others — and true-life anecdotes, it posits that we can all summon the healer within.  
The Mind, Explained
Ever wondered what's really going on inside your head? Maybe now's the time to get to know the system that manages your whole life — from the way you think to the way you dream. The Mind, Explained delves into the happenings of the human brain, exploring memory formation and retention, dreaming, mental health issues and more. 
Period. End of Sentence

.

 
This 25-minute film, which can be seen on Netflix, won an Academy Award for Best Documentary Short in 2018. It follows the story of a group of American high school students who raise money to send a low-cost pad-making machine to a group of young women in a small village in India, where menstruation is still stigmatized. The meaningful gesture helps to inspire a quiet taboo-fighting revolution.
Ugly Delicious
James Beard Award-winning Chef and culinary rebel David Chang takes Netflix viewers on a global adventure as he dissects the history of specific cuisines and how they are evolving today. Interwoven with the witty banter and drool-worthy eating scenes is an education on how cultures share, borrow — and sometimes steal —food and flavors of one another. 
Oprah's Book Club
If you want even more book suggestions, tune in to Oprah's Book Club on Apple TV+ where the beloved talk show host (and queen of all media) interviews authors of her thoughtful book picks.
The Elephant Queen
Here's another queen that will steal your heart: Athena, the fifty-year-old majestic matriarch of an elephant herd. The Elephant Queen follows this herd for four years as they travel across Africa in search of water during the dry season. It's a spellbinding story of survival that illustrates the vital relationship elephants have with their ecosystems and the threats they encounter in an unforgiving climate.
MUSIC
Created by actress and singer Rita Wilson while in quarantine after testing positive for COVID-19, this playlist features a diverse and cheeky curation of aptly-title songs, such as "It's The End Of The World As We Know It (And I Feel Fine)," "Don't Stand So Close To Me" and "All By Myself." It's cathartic (and musical) humor.
A little Frank Ocean, a little Maggie Rogers — this playlist delivers the much-needed serenity we're all looking for.
Keep yourself company while you WFH with this playlist of moody and ambient music that won't distract you too much.
There's only so much coffee a person can drink in the course of a day in self-isolation. when evening rolls around, put on this playlist to brighten your mood and raise your spirits.