All the cozy, wintry vibes — minus the booze.
The winter season ushers in celebrations of all kinds — and often, those occasions are accompanied by delicious cocktails. But when things get too festive, the hangover — or hangxiety — that follows… not so fun.
That's why we've gathered the recipes for five delicious winter mocktails, which pack all the amazing holiday flavors you love sans the alcohol, so you can imbibe as much as your heart desires. Cheers!
RELATED: How to Avoid Feeling Bloated After Holiday Dinners
Vegan Eggnog
Credit: Zero Proof
Serves 6
Ingredients:
1 (15-ounce) can full-fat coconut milk
1/4 cup unsweetened almond milk
1/4 cup raw cashews, soaked for at least 1 hour
1/4 cup real maple syrup
1 tsp ground cinnamon
1 tsp vanilla extract
1/4 tsp ground nutmeg
Pinch of ground cloves
Pinch of sea salt
Cinnamon sticks, ground cinnamon and/or ground nutmeg for garnish
Directions:
Add all the ingredients to a blender then blend until smooth.
Transfer to a pitcher and chill for 3-4 hours.
Pour into chilled glasses.
Garnish with a cinnamon stick, a dusting of cinnamon and/or nutmeg. Spicy, sweet, creamy, rich, aromatic — of all the winter mocktails, this one certainly packs a flavorful punch.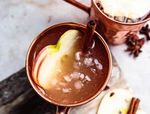 Gut-Healthy Ginger Apple Cider
Credit: Alison Marras, Food by Mars
Serves 1
Ingredients:
1/3 cup ginger kombucha
2/3 cup organic apple cider
handful ice
1 cinnamon stick
2 apple slices (for garnish)
Directions:
If gut health is on your mind when searching for winter mocktails, then this one is for you. Just add kombucha and apple cider to a cocktail glass and fill the rest of your cup with ice. Stir with a cinnamon stick, add apple slices for garnish and serve.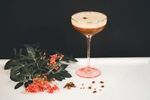 Espresso MartiNO
Adapted from Seedlip
Ingredients:
1/4 cup Seedlip Spice 94
1/4 cup organic coffee
Ice
A few drops pure stevia (no erythritol or natural flavors)
Coffee beans (for garnish)
Directions:
Combine ingredients in a shaker filled with ice, shake, double strain and pour into a coupe glass. Garnish with three coffee beans.
Pro tip: If you don't want to be wired all night, swap the regular coffee for decaf.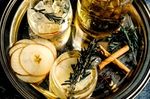 Cran-Apple Cider and Rosemary Mocktail
Credit: Zero Proof
Serves 8
Ingredients:
2 cups sparkling water, divided
4 sprigs of fresh rosemary
3/4 cup apple cider
1 cup 100% cranberry juice, unsweetened
Crushed ice
1 cup frozen cranberries, for garnish
Sprigs of fresh rosemary, for garnish
Directions:
Muddle fresh rosemary in the bottom of a pitcher.
Add half of the sparkling water and let sit in the refrigerator for 3 hours to infuse.
When ready to serve, add the remaining sparkling water followed by the apple cider and cranberry juice.
Fill 8-ounce glasses with crushed ice and divide among the ice-filled glasses.
Garnish with frozen cranberries and rosemary.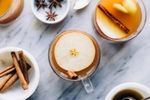 Apple Cider Rooibos Hot Toddy
Adapted from Minimalist Baker
Serves 2
Ingredients:
1 1/2 cups unfiltered apple juice
3/4 cup water
1/2 medium lemon, juiced
1 cinnamon stick (or sub 1/4 tsp ground cinnamon per 1 cinnamon stick)
5-6 slices fresh ginger (1/4-inch thick)
1 healthy pinch ground ginger
1 pinch salt
1 pinch pepper
2 rooibos tea bags (or sub chai tea)
1 pinch ground cayenne (optional)
1-2 tbsp sweetener coconut sugar, maple syrup (or sub 2-3 drops pure stevia)
Directions:
Add apple juice, water, lemon, cinnamon stick, fresh ginger, ground ginger, salt and pepper to a small saucepan and heat over medium high heat. Bring to a simmer, then turn off heat and add rooibos tea bags. Steep for 10-12 minutes, still on the stove with heat turned off.
Sample and adjust flavor as needed, adding cayenne for added spice. If you find it needs more sweetness, add coconut sugar or maple syrup (optional).
Remove tea bags and divide between two serving glasses, with additional slices of lemon. Serve hot.
Best when fresh, though leftovers will keep covered well in the refrigerator for 2-3 days. Reheat on the stovetop or in the microwave.