"Soul food lives at the intersection of the ugly and brilliant parts of America."
At its core, food is nourishment — what we ingest fuels our bodies, but it also fuels our spirits. A profound example of that is soul food: a cuisine with one of the most dynamic histories, soul food feeds body, mind and yes, soul — and has since its conception during the transatlantic slave trade in the 16th century.
Poet and author Caroline Randall Williams explored the complexity of this cuisine while co-authoring the memoir and cookbook Soul Food Love with her mother, author Alice Randall.
"Soul food lives at the intersection of the ugly and brilliant parts of America," says Williams. "When you eat a plate of soul food, what you're eating is an instinct to survive and make beautiful food out of unfamiliar, difficult ingredients that were then filtered through the hands and minds of people who had a will to live even under the most oppressive conditions. It's American history on a plate."
And while modern-day soul food has a reputation for being a somewhat heavy comfort food, it began as healthy sustenance at a time that required unfathomable endurance.
The History of Soul Food
You can't talk about soul food without acknowledging the history of its ingredients and the people who shaped them.
"In soul food, we see the intersections of the hardest parts of how America came together — from the different countries in Europe and the addition of ingredients from Africa, to the hard work and creativity of the people who were enslaved in kitchens," explains Williams.
"[Soul food is about] taking something traumatic and allowing it to become transcendent."
After being forcibly brought to America during the transatlantic slave trade, Africans were given meager food rations and ingredients that were undesirable and difficult to use. They used these ingredients with ingenuity in order to preserve their traditional African ways of cooking, while simultaneously forging new ways of cooking.
It's a story of "taking something traumatic and allowing it to become transcendent," says Williams.
"There's something really empowering in that. The familiar, fundamental ingredients at the heart of soul food — the greens, sweet potatoes, peanuts — these were survival foods that were turned into things that allowed people to thrive," says Williams. "They gave us the toughest greens, the least desirable pieces of meat, and we figured out how to cook it down into something delicious and worthy of celebration — something beautiful that is now coveted."
(If you want to know more about the history of soul food, watch the Netflix series High on the Hog with chef and food writer Stephen Satterfield.)
The Spirit of Soul Food Now
"Soul food, in the familiar, popular sense, connotes traditional Southern cuisine: fried chicken, candied yams, collard greens, macaroni and cheese, cornbread biscuits, gravy — the sort of luxurious, least-healthy, big-platter foods found at Southern feasts," says Williams. "That is an important aspect that I call 'celebration soul food.' But to me, soul food speaks more to the spirit in which the food was prepared."
"The women that I learned to cook from — multiple generations of Black women from the South — my mother, my grandmother, my great-grandmother — they ate such a wild array of foods. And everything I ate at my grandmother's house felt like soul food to me because it was prepared with love and meant to nourish and sustain me," says Williams.
"For me, soul food is about feeding people that you love in a way that shows their bodies love and their spirits love," says Williams. "When I cook for people, I want it to sustain them. I want it to make them well — not just make them emotionally feel good, but keep them well for the fights that we're fighting now."
RELATED: Decoding Your Digestion
Reclaiming Soul Food's Healthy Side
In our current culture now, soul food is often linked with rich, unhealthy recipes that utilize lots of sugar and fats. And while those celebratory foods are certainly a piece of this culinary tradition, the history and heart of soul food is about nourishment, resilience and survival. And in order to survive, food needs to be sustaining.
In other words: Soul food has healthy roots.
"Reclaiming the healthy side of our food history allows us to put self-care literally and figuratively back on the table."
However, it's important to note that in America, access to healthy foods is a luxury that not everyone has. Black communities are disproportionately affected by food deserts with research showing that "one out of every five Black households is situated in a food desert." You can help fight for food justice for Black Americans by supporting these groups, curated courtesy of CivilEats.
"We need the food that nourishes our souls to also nourish our bodies — reclaiming the healthy side of our food history allows us to put self-care literally and figuratively back on the table," says Williams.
Together, Caroline Randall Williams and her mother Alice Randall crafted their own recipes, paying homage to classic soul food recipes that have become a pivotal part of American cuisine, with ingredients that are healthy and nourishing.
Below, recipes used by Williams' own family.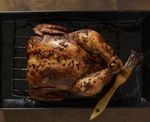 Spicy Pepper Chicken
"My favorite healthy spin on a classic soul food recipe has got to be my Spicy Pepper Chicken, which is an homage to Nashville Hot Chicken and Ms. Andre Prince Jeffries!" says Williams.
Ingredients:
2 tbsp cayenne pepper
1/3 cup olive oil
3 garlic cloves, minced
Salt
1 (3- to 4-pound) chicken
Pepper
Directions:
Preheat the oven to 450 degrees F.
Mix the cayenne, olive oil, garlic and 1/2 tsp salt in a small bowl.
Remove the giblets, neck and liver packet — anything stuffed in the interior of the chicken. Rinse the chicken inside and out, and pat dry.
Put the chicken in a baking dish with low sides. Season it generously with salt and pepper inside and out.
Starting at the neck of the chicken, and making sure to break no more of the skin than you have to, brush the oil mixture onto the chicken flesh, including the legs. The whole chicken should appear reddish.
Roast the chicken for 20 minutes to crisp the skin, then turn the heat down to 400 degrees F. Continue to roast the chicken until it reaches an internal temperature of 160 degrees F. The juices should run clear and colorless when you pierce a thigh. This can take another 25-40 minutes.
Remove the dish from the oven and let the chicken rest for 15 minutes before carving and serving.
A Mess of Greens
Ingredients:
2 large bunches collards, kale, turnip greens or mustard greens
1 yellow onion, diced
3 garlic cloves, minced
3 jalapeños, diced
1/4 cup hot sauce
1 tbsp apple cider vinegar
Directions:
Wash your greens in enough changes of water to get them completely clean.
After you wash them, tear them up and throw them in a large pot. Add 1 1/2 quarts of water, the onion, garlic, jalapeños, hot sauce and vinegar. Cover the pot and bring to a boil.
Reduce the heat, and allow the greens to stew on low heat until very soft (2 hours).
Serve the greens hot with plenty of the pot liquor.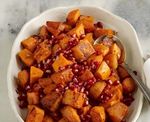 DeFord's Spicy Roasted Sweet Potatoes with Pomegranate
Named in honor of jazz musician DeFord Bailey, this dish has a whole lot of sweet and spice, just like DeFord's playing. Word of warning: Williams advises not to serve with the Spicy Pepper Chicken, or your mouth will be on fire!
Ingredients:
3 large sweet potatoes, cut into 1/2-inch chunks
Salt and pepper
2 fresh hot red chile peppers
1 garlic clove
1/3 cup red wine vinegar
1 tbsp honey
3 tbsp olive oil
1 medium red onion, chopped
2 cups pomegranate seeds or unsweetened dried cranberries
Directions:
Preheat the oven to 400 degrees F.
Put the sweet potatoes on a baking sheet, season with salt and pepper, and roast until tender when pierced with a knife, about 20 minutes.
While the sweet potatoes are roasting, make the dressing: Seed and chop the chile peppers. Transfer them to a food processor and add the garlic, vinegar and honey. Whirl until finely chopped. Slowly pour in the olive oil with the motor running, and whirl until the dressing is smooth.
Toss the sweet potato chunks with the onion, pomegranate seeds and dressing. Serve hot or cold.