THE WELL Editors
Updated: 08/06/2022
These refreshing booze-free drinks are perfect for warm-weather celebrations!
For mocktail recipes that require a sweetener, use small amounts of pure monk fruit (no erythritol) and pure stevia (no erythritol or natural flavors).
Cool as a Cucumber
Adapted from 8fit
Serves 2
Ingredients:
1/4 cucumber
1/4 cup soda water
2 tbsp fresh lime juice
3-4 large ice cubes
1/4 crushed ice per serving
2 springs fresh mint or herb of your choosing (optional)
Directions:
Peel and remove seeds from cucumber, then chop into thin slices — setting a few slices aside for garnish at the end.
Blend lime juice, one sprig of mint and cucumber in a blender until smooth. If you don't have a blender, you can muddle ingredients.
Add crushed ice into two glasses and pour mixture on top.
Top each glass off with soda water.
Garnish with cucumber slices, lime wedges and mint leaves (if desired).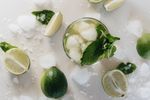 Healthy Mojito Mocktail
Adapted from Emmeline Kemperyd, Always Use Butter
Ingredients:
1 lime cut in wedges
20 fresh mint leaves
2/3 cup soda water
Crushed ice
Directions:
Place your lime wedges and mint leaves in a highball glass, squeeze in some of the juice from the lime wedges before adding them. Muddle together until most of the juice has been released from the lime.
Add in crushed ice, mix and top with soda water. Decorate with a straw and a sprig of mint and serve immediately.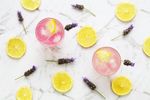 Lavender Lemonade
Adapted from Mindful Mocktail
Serves 2
Ingredients:
2 tsp dried lavender
2 tsp stevia
2 tbsp lemon juice
1 cup boiling water
2 cups sparkling water
Directions:
Place the lavender, sweetener and water in a small saucepan and bring to a gentle boil.
Turn to very low, so the water is just steaming. Leave until the colour has faded out of the lavender (about 7-8 minutes). Strain and leave to cool.
Add 2 tbsp lavender syrup and 2 tbsp lemon juice to a glass.
Add ice and top with sparkling water.
Margarita Mocktail
Adapted from Becca Ludlum, My Crazy Good Life
Ingredients:
6 ounces sparkling water
1 lime (squeezed)
3 Ice
2-3 drops stevia
Salt to rim the glass
Optional: jalapeños, herbs, flowers, extra lime or lemon
Directions:
Rim the glass with salt, if you'd like and add ice to your liking. Squeeze a lime over the ice, add 2-3 stevia drops and fill with sparkling water.
Strawberry Smash
Adapted from 8fit
Serves 2
Ingredients:
1/2 cup frozen strawberries
1 cup soda water
6 mint leaves (plus more for garnish)
4 fresh strawberries to garnish
Pure stevia or monk fruit sweetener
Directions:
In a blender, add the frozen strawberries and mint.
Blend until smooth and pour into two glasses.
Add chilled soda water and a couple drops of sweetener.
Wash and remove stems of two fresh strawberries, cut in half and mix into drink.
Garnish with the rest of the strawberries and mint.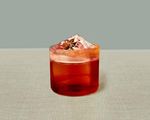 Spice Hibiscus Margarita
Adapted from Seedlip
Ingredients:
2 ounces Seedlip Spice 94
Stevia to taste
1 ounce hibiscus tea
1/4 ounce fresh lime juice
Monk fruit sugar
4 tbsp kosher salt
1 tsp cinnamon
1 tsp nutmeg
Star Anise, for garnish
Directions:
Lightly muddle all ingredients in a shaker.
Add ice, shake and strain over ice. Garnish with a Star Anise and a half-rim of Spiced Sugar-Salt.
For the Spiced Sugar-Salt: Combine 4 tbsp kosher salt, 2 tbsp granulated monk fruit sugar and 1 tsp of each ground cinnamon & nutmeg.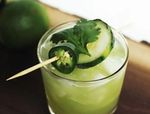 Spicy Cucumber Cooler
Adapted from The Merry Thought
Serves 1
Ingredients:
1/4-inch jalapeño (adjust according to heat of the jalapeño you get)
1-inch cucumber, chopped
8 leaves cilantro
1 tbsp lime juice
Sparkling water
Squeeze of lemon
Directions:
Combine and muddle jalapeño, cucumber and cilantro.
Add this mixture into a cocktail shaker half full of ice and add 1 tbsp lime juice, sparkling water and a squeeze of lemon.
Shake well and strain into a glass of crushed ice.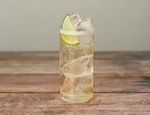 Spice Ginger Highball
Adapted from Seedlip
Ingredients:
2 ounces Seedlip Spice 94
Ginger kombucha (choose one with less than 5 grams of sugar)
Lime wedge
Directions:
Combine ingredients over ice and garnish with a lime wedge.
Strawberry Basil Soda
Adapted from Fork Knife Swoon
Ingredients:
2 cups strawberries, hulled and quartered
1/3 cup monk fruit sugar
Juice of half a lemon
1/2 tsp pure vanilla extract
Handful of fresh basil, roughly chopped or torn
Sparkling water
Fresh strawberries, for serving
Directions:
In a large mixing bowl combine the chopped strawberries, sugar, lemon juice and vanilla. Cover with plastic wrap and refrigerate for at least 4 hours or overnight (even better).
To serve, add a heaping spoonful of the strawberries and syrup to a glass. Add a few torn basil leaves and muddle to combine. Add ice and top with 8 ounces of sparkling water.
Garnish with fresh strawberries. Stir and enjoy!