THE WELL Q&A: April Gargiulo
The founder of Vintner's Daughter dishes on her skincare secrets, the importance of hydration and how she recharges.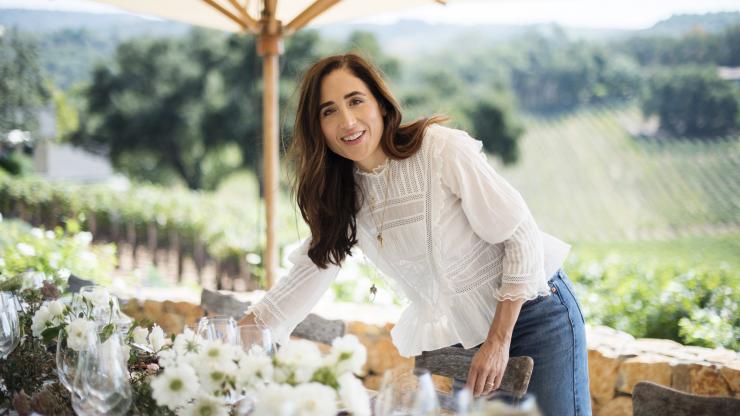 April Gargiulo is the Founder and CEO of Vintner's Daughter, a luxury skincare company committed to performance-driven, quality-focused, non-toxic skincare. She launched her first product, Active Botanical Serum, in February 2012. Quickly thereafter, Vintner's Daughter became a benchmark for quality and performance in the beauty world and is coveted by top beauty connoisseurs and industry professionals around the world.
Before starting Vintner's Daughter, April spent eight years at the helm of her family's Napa Valley winery, Gargiulo Vineyards. There, she helped build the winery's reputation for terroir-driven, "first growth" Cabernet Sauvignon. Before Napa, April spent six years in Manhattan where she worked for design leader Vitra. She is married to fellow entrepreneur Mitch Lowe (also her Executive Chairman) and has two young daughters.
What brought you to wellness?
I have been interested in wellness all my life. When I feel my best, I can give my best.
What does wellness mean to you?
It is about balance and a true connection with myself, the people and world around me.
One lesson you'll take away from the COVID-19 pandemic?
Vintner's Daughter commits two percent of every dollar to organizations benefiting women and children. We also focus heavily on our environmental impact and organizations that can help us lessen our carbon output. Before the pandemic we treated these two impact areas as separate entities. The last year has shown me how intersectional the two are and has allowed us to begin focusing our giving in more strategic ways.
Name three non-negotiables in your life.
My family, friends and time spent alone.
The book you own that is the most dog-eared?
Favorite quote?
"What you think, you become. What you feel, you attract. What you imagine, you create." — Siddartha
Snack you pack when you're on the go?
Apple, tamari almonds, dark chocolate
Instagram accounts that get the most likes from you?
Best beauty secret?
Hydration is so critical to having your most healthy, balanced and radiant skin. So many mistake moisture for hydration and vice versa, but hydration comes from water and moisture comes from oil. Moisture is there to protect the skin's hydration. Your skin needs hydration from the outside through great hydrating products like Active Treatment Essence and also from the inside through water consumption. It is so simple yet so effective.
Morning and/or bedtime rituals?
I have a simple skincare routine that is the same AM/PM. After cleansing, I apply Active Treatment Essence followed by Active Botanical Serum. In those two steps I know my skin is receiving all the hydration, moisture, nutrition and performance-driven actives it needs to be its absolute best. For daytime I finish with sunscreen and at night I use my NuFACE and/or do a face massage.
Wellness travel essentials?
Sleep mask and ear plugs.
Key to a good night's sleep?
When you really need to chill out you...
How do you take your coffee or tea?
I love tea and really enjoy the connection to nature through the leaves. I don't add anything.
Hydration strategy?
Hydration is an underrated but critical aspect of optimal health. I start my day with a big glass of lemon and water and try to drink water and herbal tea throughout my day. I also rely on high water content foods for hydration as well.
Simple smoothie recipe?
Kale, yogurt, berries, banana, walnuts, chia, flax and almond milk.
How do you reboot?
A hike in nature with friends.
Preferred mode of movement?
When you feel a cold coming on you...
Start taking oregano oil.
Weirdest wellness trend you've ever tried?
Juice cleanse. Not that weird, but so not right for me.