Simplify your approach to cooking without sacrificing flavor or nutrition.
In recent weeks, countless aspects of our lives have changed drastically. One change that we've likely all experienced is a (major) uptick in cooking at home. Whether you enjoyed spending time in the kitchen before the stay-at-home orders were issued or you barely knew how to boil water, you might be in need of inspiration to keep creating delicious and nutritious meals several times a day.
Don't worry — we've got you. THE WELL Health Coaches — Raj Barker, Katrine van Wyk and Pilin Anice — are sharing their favorite simple and healthy meals to make at home. The best part: They are require 10 ingredients or less — none of which are fancy , but the delicious results taste anything but basic.
Find more ways to optimize your health during COVID-19 — and beyond — from Frank Lipman, MD, here.
Spinach and Mushroom Egg Scramble
Serves 2
Paleo, gluten-free, vegetarian 
Allowing for easy cleanup, this one-pan dish makes a nutrient-dense, tasty breakfast. Feel free to sub in any vegetables you have on hand in place of the mushrooms, or another leafy green of your choice in place of spinach. (But did you know mushrooms have immune-boosting superpowers?)

Ingredients:
1 tbsp grass-fed butter
1 inch of leek, finely chopped
1 cup mushrooms, roughly chopped (any variety works)
1 cup baby spinach, roughly chopped
4 pasture-raised eggs
Salt and pepper to taste
1 sprig of fresh parsley
1 tsp of grated parmesan cheese (optional, omit if you prefer to keep it dairy-free)
Directions:
Melt butter in a pan. Add the chopped leeks and sauté until slightly translucent.
Add in the mushrooms and cook until soft.
Add in the spinach and allow it to wilt as you stir it through with the other ingredients in the pan.
In a separate bowl, whisk eggs together until smooth.
Turn heat down to low and pour the whisked eggs into the pan and stir through.
Once the egg is cooked through, serve in two bowls. Top with salt, pepper, parsley and grated parmesan, if using.
Berry Breakfast Smoothie
Serves 1
Gluten-free, dairy-free, vegetarian
This filling smoothie includes good fat, unrefined carbs and protein to deliver your body a nutritious and hearty meal (in liquid form).
Ingredients:
1 cup of coconut or almond milk
2 generous handfuls of baby spinach
3/4 cup fresh or frozen blueberries
5 large frozen cauliflower florets
1/4 avocado
1 scoop of protein powder of your choice
Directions:
In a high speed blender, add the ingredients in the order listed above. Blend until smooth.
Serve and drink within two hours.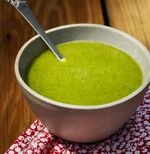 Zucchini Basil Soup
Serves 2 as a main, or 4 as a snack or starter
Vegetarian, paleo, gluten-free, vegan (if omitting the cheese) 
This delicious soup uses fresh, summer-y ingredients, although it's great to eat year-round. It's light enough to enjoy as a starter or a snack, but can satisfy as a meal on its own. The arugula adds a nice peppery kick, and the zucchini makes it comforting and light yet creamy.
Ingredients:
1 tbsp olive oil
1 yellow onion, chopped fine
2 cloves garlic, minced
3 zucchini, diced
1/2 tsp salt
1/8 tsp white pepper
1 cup fresh basil leaves, roughly chopped
3 cups bone broth, vegetable stock or chicken stock
2 cups arugula, chopped
Slivered almonds and/or grated Parmesan for garnish (optional)
Directions:
Heat a pot on medium heat and add the olive oil. Add onion and garlic and sauté until translucent, about 3 to 5 minutes.
Add zucchini, salt, pepper and basil and sauté for 1 more minute. Add the stock or broth and cook for 5 minutes, or until the zucchini is tender.
Turn the heat off. Add in the arugula and stir.
To liquidize the soup, use a blender or immersion blender. Then pour all the soup back into the pot. Taste for salt and pepper and add more if needed.
Serve hot with a sprinkle of slivered almonds or grated Parmesan, if using.
Recipe adapted from Best Green Eats Ever by Katrine Van Wyk
Coconut Stew with Bok Choy and Chicken
Serves 4 to 6
Paleo, gluten-free
This warm, comforting curry sneaks in 11 ingredients, but it's well worth it. The creamy sauce, the strong flavors and the little spice kick are so satisfying. This is our version of a Thai green curry, though it's a bit milder than the ones you'd eat in Thailand. Look for a curry paste that includes green chili, garlic, lemongrass, kaffir lime, ginger, salt — and not much else.
Ingredients:
1 tbsp coconut oil
2 cloves garlic, chopped
1 tbsp ginger, chopped fine
3 tsp green curry paste, or more if you like your food spicy
1/2 cup fresh cilantro, chopped
2 13.5 fl oz cans coconut milk (NOT light)
1 1/2 pounds organic or pastured boneless, skinless chicken thighs or breasts, cut into two-inch chunks
3 baby bok choys, cut in quarters the long way
1 cup sliced mushrooms
1 tbsp lime juice
1 tbsp coconut aminos
Directions:
In a large saucepan over medium heat add the oil, garlic, ginger, curry paste, coriander, and fresh cilantro, along with a tbsp of water. Cook for 1 minute, stirring continuously.
Add the coconut milk and bring to a simmer. Add in the chicken and let it simmer for 5 minutes. Then add the bok choy and mushrooms (the pot might seem full, but the bok choy will wilt down). Simmer for another 5 minutes.
Add in the lime juice and coconut aminos and stir. Simmer for 1 minute. Taste and add salt if needed.
Serve with cooked rice, quinoa or cauliflower rice.
Chickpea Salad
Serves 4
Vegetarian, vegan, gluten-free
This is one of Pilin's favorite quick meals. It mimics tuna's versatility and can be served with organic crackers, on bread with tomato or over mixed greens. Either way, it is sure to leave you feeling satisfied!
Ingredients:
1 1/4 cup of cooked chickpeas (one 15-ounce can)
1/2 tablespoon extra virgin olive oil
1/4 cup avocado mayo or vegan mayo (Follow Your Heart or Just Mayo are brands we like)
2 1/2 tablespoons of nutritional yeast
2 tablespoons of diced red onion
1 dill pickle, diced
1 celery rib, diced
1 teaspoon of yellow mustard
1/2 teaspoon paprika
Sea salt and pepper, to taste
Directions:
Place chickpeas and olive oil in a bowl and mash until they are crumbly. Don't over-mash; we are not making hummus here!
Add all the other ingredients and stir together. Season with sea salt and pepper to taste. Serve with crackers, in a sandwich or over mixed greens.