3 Healthy Breakfasts From a Top Chef
Giada De Laurentiis shares delicious recipes from her new wellness-driven cookbook.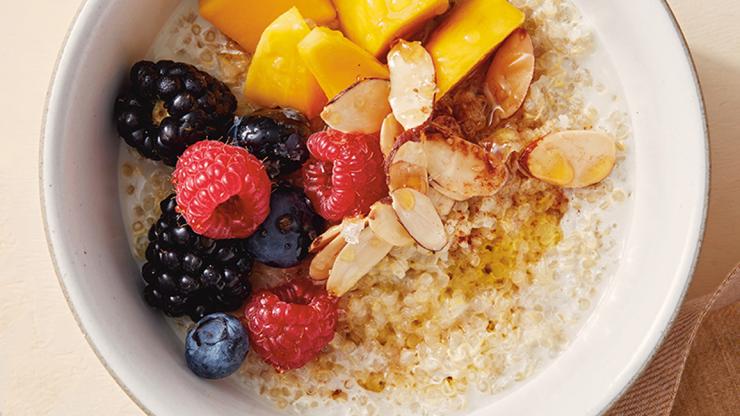 In her new (already bestselling) cookbook Eat Better, Feel Better, celebrated chef and TV personality Giada De Laurentiis sheds light on her 10-year wellness journey — a journey that she says took place "not so coincidentally" between her fortieth and fiftieth birthdays. She explains that she made a conscious effort to take control of her health when it become impossible to ignore the fact that the choices (or lack thereof) she'd been making for the past twenty years just weren't working anymore.
Relatably, Giada had spent those two decades building a career, raising a daughter and burning the candle at both ends. Says Giada: "Tricks that had always helped me cope under pressure and compensate for too much travel, interrupted sleep, irregular and sometimes unhealthy meals — usually sugar in some form — just made me feel more exhausted... I realized that if I didn't prioritize my health above the hundred other things vying for my attention, I would only continue to feel worse, not better."
RELATED: Try This Yoga Sequence to Boost Digestion
Her book details how she learned to listen to her gut, give her digestive system a chance to recover and heal and change her eating habits — without sacrificing the creativity and delicious flavors she's known for. Below she shares three breakfast options that are  both satisfying and healthy — a sneak peek of how you can get well and eat well all at once. 
Warm Quinoa "Oatmeal"
Serves 2
For the longest time, my everyday breakfast was cooked brown rice with a little olive oil and salt because regular oatmeal doesn't always agree with me. Now I've switched to this homey, comforting breakfast, which has a little more sweetness and flavor. I find a pinch of spice gives it a warm, cozy taste and aroma.
Ingredients:
1 cup cooked quinoa

2/3 cup unsweetened almond milk, homemade, or store-bought

2/3 cup mixed fruit, such as berries or mango, or unsweetened flaked coconut, or a combination

2 tbsp sliced almonds

2 tsp extra-virgin olive oil or coconut oil

4 tsp pure maple syrup

Pinch of flake salt (optional)

Ground cinnamon, ginger,

Nutmeg, or cardamom (optional)
Directions:
Add the quinoa and almond milk to a small saucepan.

Place over medium heat and bring to a low simmer.

Cook for 2 to 3 minutes, just to heat through.

Spoon the mixture into two bowls and top with the fruits, nuts, olive oil, and maple syrup.

Sprinkle with flake salt and the ground spice, if desired. Serve warm.
Olive Oil Scramble Eggs with Arugula and Fennel Salad
Serves 2
Starting the day with a big plate of greens and eggs just makes me smile and gives me all the fuel I need to go right through lunch. This would more likely be a light supper in Italy, and when I'm on my own, I sometimes make this in the evening to enjoy with a spritzer or a glass of Prosecco on ice.
Ingredients:
For the salad:
2 cups baby arugula

1/2 fennel bulb, stalks 

removed, thinly sliced

1 tsp fresh lemon 

juice

1 1/2 tsp extra-virgin 

olive oil

1/4 tsp kosher salt
For the eggs:
4 large eggs

1/2 tsp kosher salt

2 tbsp olive oil

Freshly ground black pepper (optional)
Ingredients:
In a medium bowl, combine the arugula, fennel, lemon juice, extra virgin olive oil, and salt. Toss gently to combine. Divide between two plates.

Crack the eggs into a medium bowl. Add the salt and whisk until smooth and completely combined.

Heat a medium nonstick skillet over medium-low heat. Add the oil and heat for another minute.

Add the egg mixture to the hot oil.

Using a rubber spatula, stir the eggs constantly, shaking the pan occasionally to help keep the eggs moving.

When the eggs look almost cooked but are still creamy and slightly wet, remove the pan from the heat.

Continue to stir the eggs off the heat for about 3 minutes, or until done to your liking. Take your time here and be patient.

Divide the eggs between the two plates, top with a few grinds of pepper if you like, and serve.
Coffee and Spinach Smoothie
Makes two 12-ounce smoothies
When I serve this smoothie for brunch, it wows people every time. You barely taste the spinach, but you get a little jolt from the coffee. The cocoa nibs are my favorite part! I like to mix up all the ingredients except the ice the night before, so in the morning all I need to do is whiz it with ice just before serving.
Ingredients:
1 ripe banana

1 cup unsweetened almond milk, homemade, or store-bought

2 cups baby spinach

2 cups ice

1/2 tsp pure vanilla extract

Pinch of kosher salt

1/2 ripe avocado

1 tbsp finely ground espresso or coffee

1 tbsp cocoa nibs
Directions:
Combine the banana, almond milk, spinach, ice, vanilla and salt in a blender.

Puree on high speed for 1 minute, or until almost smooth.

Add the avocado and puree for another 30 seconds, or until smooth.

Add the coffee and cocoa nibs and pulse to combine.

Divide between two glasses and serve.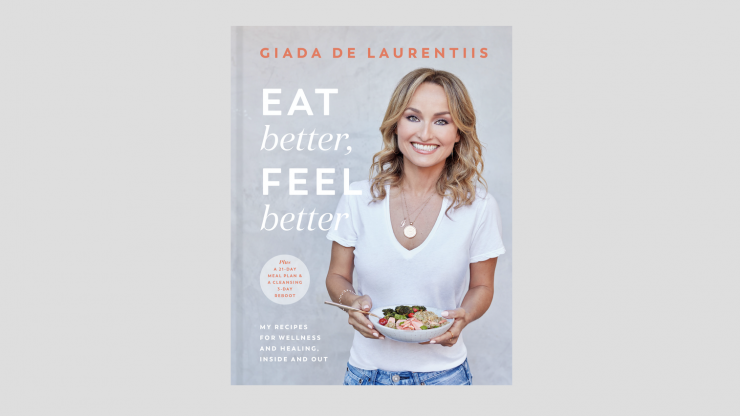 Excerpted from EAT BETTER, FEEL BETTER by Giada De Laurentiis. Copyright © 2021 by GDL Foods Inc. Published by Rodale Books, an imprint of Random House, a division of Penguin Random House LLC.