Laura Allen
Professional Chef and Health Coach
Published: 10/06/2022
As the weather cools, autumn fruits and veggies take center stage. Learn how to make the most of these fall foods — plus, festive recipes you're sure to love.
As a chef, I know fall fruits and veggies don't tend to get as much glory as summer's bounty, but this time of year ushers in a chance to gather with friends and family to cook festive meals that are both healthy and full of flavor.
Shopping at your local farmers market gives you the chance to buy fall foods straight from the source and picked at peak ripeness with maximum nutritional benefits. That means local, sustainable, organic and (most importantly) delicious produce!
One tip: Get to know people at different farm stands — this often includes farmers themselves. They will be able to provide insight on what produce will be available and when, especially because cold weather changes the selection. For example, late fall's chill means saying goodbye to tomatoes, peppers and berries and hello to root vegetables and dark leafy greens.
RELATED: 5 Ayurvedic Practices for a Healthy Fall
Fall Foods — and How to Use Them:
Read on for my favorite fall foods to pick up from the farmers market. Plus, some crowd-pleasing recipes.
Apples
There are so many varieties of apples to choose from tart to sweet. My advice: Buy one of each variety to see which ones you like best They're all full of health benefits, such as antioxidants, fiber and vitamins.
Pears
I love poaching pears this time of year. A batch of poached pears isn't just a healthy treat when you have a hankering for something sweet, but also a great way to make your home smell festive. A quick search online can tell you how to do the poaching.
Quince
Quince is a lesser-known fall fruit, similar to a pear with a wonderful seasonal flavor — just be sure to cook it. Recently, I used a few to make a delicious pepper jam with the last of this season's Jimmy Nardello peppers (which have a mild, fruity flavor).
Persimmons
Persimmons come to market in October and November, and their golden color is perfect for fall and winter. They're great on their own, in salads or atop a crostini. I always go for the Fuyu variety. Choose a deep orange one that feels heavy for its size.
Mushrooms
With so many varieties (and remarkable health benefits), mushrooms are a fantastic farmers market purchase. I like using a mix of maitake and blue oyster, but white buttons are another great option; cook those low and slow.
Squash
Squash and pumpkins, the main players of the season, are loaded with vitamins and nutrients. My personal favorites are koginut, honeynut and delicata. I recommend keeping the skin on when cooking, which is where many of the nutrients are located. Read more about the nutritional benefits of pumpkin and winter squash here, including a few recipes from THE WELL Kitchen & Table.
Beets
When I get back from the market, I cook my beets in a pressure cooker, peel them and put them in the fridge. With this method, beets are ready to go and I can throw them in a salad or add them to a veggie mix without having to worry about cooking them.
Cauliflower
All types (purple, orange, Romanesco) cook similarly and have a similar flavor profile, so don't be afraid to try one you are less familiar with.
Brussels Sprouts
Although Brussels sprouts are great prepared all different ways, searing them in a frying pan is the best way to make them, in my opinion. You can also easily cut them in half and throw them in with whatever protein you are cooking.
Cranberries
A foolproof recipe perfect for Thanksgiving: 20 ounces of fresh cranberries, 1 cup of sugar, zest and the juice of two oranges. Bring to a boil then simmer on low for 30 minutes. Remove from heat and cool. The mixture will thicken significantly as it cools.
Sweet Potato
I like to slice and roast sweet potatoes in the oven, leaving the skin on and topping them with salt and olive oil. They're easy to reheat in the oven or in a pan and you can finish them with a spice blend (I love to use za'atar) for an easy side dish.
Herbs
Herbs are the secret to elevating any dish — they pack a lot of flavor in a small package. These are a few of my go-tos for fall and early winter.
Sage — I actually recommend frying the leaves! From there, leave whole or crumble for an easy garnish.
Parsley — A great way to add some green to your plate. Plus, parsley is rich in vitamin C.
Rosemary — A little goes a long way, but you can always dry leftover rosemary sprigs and use the dehydrated leaves. This is so much better (and cheaper) than buying dehydrated rosemary at the store.
Thyme — Reheating soup? Add a few sprigs of thyme for a subtle infusion of floral flavor. You can also add a few sprigs of thyme as you sauté veggies, but remember to remove the sprigs before serving.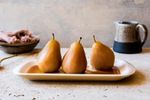 Healthy Fall Recipes to Try
Vegan Herbed Aioli
This herbed aioli makes even the driest turkey edible, mixes perfectly with mashed potatoes (and gravy) and perks up the dullest stuffing — it is the best condiment to serve at Thanksgiving!
Ingredients:
25 cloves garlic, peeled
1 tsp salt
5 sprigs parsley, leaves picked and chopped
1 tbsp water
1 1/2 cups Extra Virgin Olive Oil
Directions:
Use a garlic press to crush the garlic and put it in a mixing bowl.
Add salt, parsley and water.
Blend ingredients using a kitchen mixer with a paddle attachment on a stir setting.
Slowly add the olive oil (starting with just a few drops) so that it emulsifies with the other ingredients. Add the oil gradually at first, increasing the amount as you continue to mix. Store the mixture in the refrigerator and let sit for at least a day so the flavors meld.
Persimmon Cranberry Chutney
This condiment combines Fuyu persimmons with cranberries, another late fall fruit, for a sweet-meets-savory chutney. This dish makes a flavorful addition to a cheese plate or on a sandwich made with leftovers.
Ingredients:
12 ounces cranberries
12 ounces Fuyu persimmon, diced
1 cup water
1/2 cup white vinegar
1/4 cup raw sugar
1 tsp salt
2 tbsp mustard seeds
1/4 tsp ground cardamom
1/4 tsp ground coriander
Directions:
Bring all ingredients to a boil then let simmer, stirring often until persimmon is completely soft and cranberries have burst (about an hour). Cool completely and store.
Pickled Oyster Mushrooms
These pickled mushrooms are a great addition to salads and sandwiches for brightening up the winter doldrums. I put mine in a pickle press instead of canning traditionally.
Ingredients:
1 lbs oyster mushrooms, core stem removed
2 shallots, peeled and sliced thin
2 1/2 cup red wine vinegar
1 tbsp salt
1/2 tbsp sugar
2 cloves garlic, peeled and crushed
1 bay leaf
Directions:
Cook mushrooms in boiling water for five minutes.
Remove, set on paper towels and dry well.
Combine all other ingredients and bring to a boil, remove from heat and add mushrooms while still warm.
Once the mixture cools to room temperature pour into a pickle press and press for at least two days in the refrigerator.
If you aren't ready to serve, transfer to a different storage container where they will last for at least a month.