Surprising Ways to Use THE WELL Self-Care Line
Beyond smelling amazing, our essential oil-based blends have myriad unexpected uses — from face-mask sanitizer to yoga-mat refresher.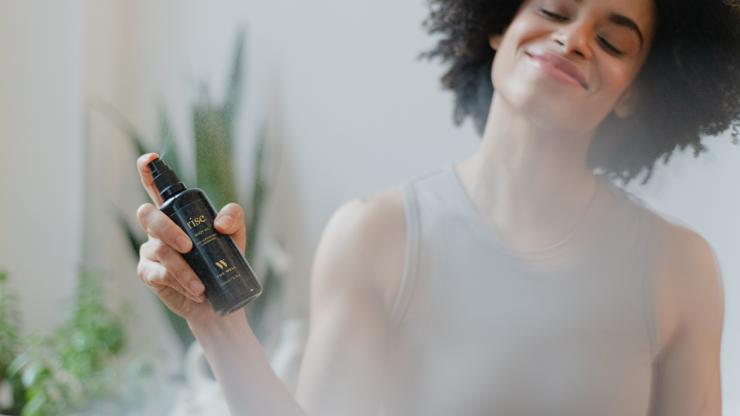 One lesson (among many others) that we've learned in 2020 is that taking care of ourselves is paramount. In the age of coronavirus, self-care means more than manicures and massages — from boosting immunity to addressing the emotional challenges of being isolated from loved ones.
That's why we formulated the new self-care line from THE WELL to be deeply therapeutic for both body and mind. But these essential oil-infused products are also multi-functional. Below, some of our favorite — and inventive — ways to use our all-natural oils and sprays.
Deodorant: Our best-selling Clean Hands sanitizer — in any of our scent formulations — doubles as deodorant! Just don't apply to freshly shaved pits to avoid stinging. 
Post-workout pick-me-up: Spritz on your body after a workout or as a campsite "shower" when you don't have time to wash up.
Face-mask sanitizer: Sanitize the inside of your face mask — and mitigate breathing in your own coffee breath. (Need a good face covering? Pick up one of our best-selling Movement Masks here.)
Deodorant: Spray and enjoy the energizing and mood-boosting effects of pink peppercorn and grapefruit.
Keep bugs at bay: Lemongrass has been shown to be

natural bug repellent

— so spray around your space or on your body while you enjoy the great outdoors. 
Deodorant: Add a stabilizing vibe to your day with a spritz or two on your pits.  

Body or makeup brush cleaner:

Bergamot acts as an antiseptic

, and can prevent the growth of bacteria. Spray on your brushes after washing them with a gentle cleanser and water.
Deodorant: Spritz on for an added element of calm on frenetic mornings.
Soothe minor burns and scrapes: Lavender can help

reduce pain

and even help

heal the skin.

Healthy hair perfume: Not only does it smell amazing, but lavender reportedly 

increases hair growth

and can improve scalp health due to its

antimicrobial properties

.

Yoga-mat spray: Cleanse your mat post-practice with

buddha wood

's disinfectant powers and

lavender's

antibacterial properties.

OUR RELAX BUNDLE NOT ONLY TAMES TENSION, BUT CAN ALSO HELP HEAL THE SKIN, FIGHT BACTERIA AND REDUCE PAIN. TAP THE TAG ABOVE TO SHOP — AND SAVE 20% WHEN YOU BUY THE BUNDLE!