THE WELL Q&A: Patricia Ladis
Our newest physical therapist shares how her dance career inspired her to help build more resilient bodies.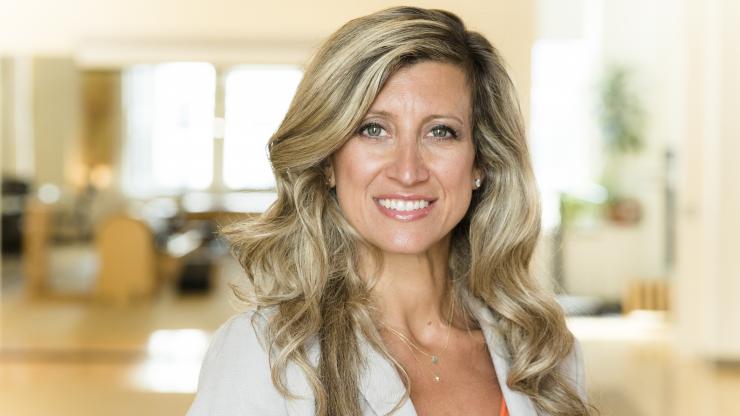 What brought you to wellness?
I was a professional dancer, so I was around injury and sustained some minor injuries myself at a young age. I realized how important it was for me to stay healthy in order to continue to dance. This meant eating right, sleeping right, strengthening and stabilizing the areas showing imbalance, weakness or stress and strain. My desire to get the body to move more wisely with efficient biomechanics led me to physical therapy. I love being able to change someone's life by getting them back to doing what they love!
What does wellness mean to you?
An optimal balance of mind, body and spirit that allows you to lead your best life.
One lesson you'll take away from the COVID-19 pandemic?
Slow down, honor your loved ones and tap into what makes you feel the happiest.
Name three non-negotiables in your life.
Spending time with my family, sleeping 7 to 9 hours a night and having restorative weekends. An additional one is to continue educating myself! I'm a lifelong student living in curiosity and wanting to know more about a variety of subjects, especially holistic wellness.
The book you own that is the most dog-eared?
Favorite quote?
"Study nature, love nature, stay close to nature. It will never fail you." — Frank Lloyd Wright
Snack you pack when you're on the go?
An apple or these almond butter protein balls I make.
Instagram accounts that get the most likes from you?
Best beauty secret?
I wrap my hair in alligator clips in sections at night and sleep that way. In the morning when I take them all out, my hair is full of bounce and volume with a bit of a curl. Everyone asks me if I get my hair done each day… nope! Just the results of an evening ritual that saves me time!
Morning and/or bedtime rituals?
In the morning I set intentions for the day as I put my BudhaGirl Bangles on; at night I give gratitude for the many awesome things that happened that day as I remove each bangle! I loved the ritual so much, I collaborated with them to create a breastfeeding ritual to help moms connect with their baby better! They also make a great gift — glamorous and incentivizes people to begin a mindfulness ritual.
Wellness travel essentials?
Reusable water bottle, the Biologique Recherche oxygenating face mist, tennis ball (for muscle self-release), my supplements and probiotics, a scarf, neck pillow, eye mask, my own skincare products, healthy organic snacks, a light travel shoulder bag and a blank notebook to free-write.
The key to a good night's sleep?
Unplugging from digital devices an hour or two before bed, keeping the phone away from the bed, a prayer/meditation/gratitude practice, reading an actual book or passage before bed, hugging kids and having a nice evening routine with them.
When you really need to chill out you...
Go to the beach, or sit outside on a lounge chair in the sun in nature.
Food philosophy?
Be happy when you eat or cook. I eat a Mediterranean diet, no gluten and minimal dairy for balanced, nourishing energy.
How do you take your coffee or tea?
Matcha, almond milk, collagen powder no sweeteners
Hydration strategy?
I have a marked water bottle to keep me accountable. I try to drink at least 65 ounces of filtered water a day. 
Words to live by?
You are safe. You are wise. You are loved.
How do you reboot?
Quick reboot: Dinner with my husband away from the kids, spa day or receiving a treatment — energy work, acupuncture, massage, facial. For a larger reboot: Vacation (usually Greece in the summer) with great food, culture, family, dancing and a whole lotta beach.
Preferred mode of movement?
When you feel a cold coming on you…
Weirdest wellness trend you've ever tried?
It was a form of getting out your stress and anger by punching large dense foam cubes of all sizes (some took up most of a NYC room) and jumping off and onto them. It was done by trauma experts, and I tried it to see if it would help my patients. It didn't seem effective enough for me — maybe for others.
What's sacred to you?
Hugs… my husband, my kids and loved ones.
Last time you laughed — and at what?
I usually laugh at Greek-American jokes… like something a typical immigrant Greek mother would say or do. So many of us Greek-Americans have very similar journeys being the first generation of Americans in our family. Think My Big Fat Greek Wedding!

Otherwise, I laugh at my daughter's witty comments that she throws into almost every interaction we have. She is 6 years old and a firecracker!