New Research Shows Yoga Improves Mental Health
This accessible form of exercise has significant mind-body benefits during stressful times.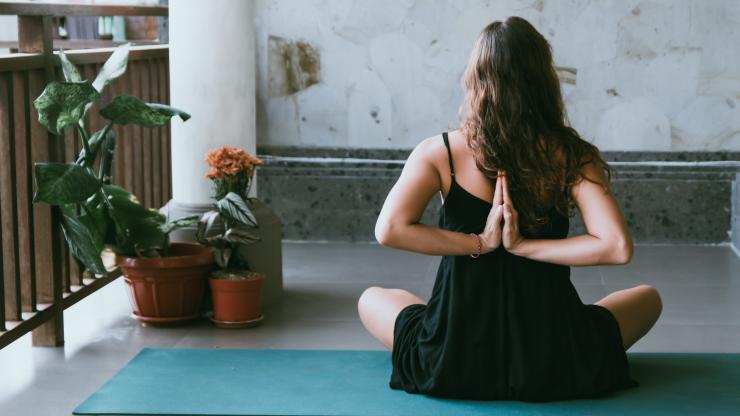 Yoga has become a go-to movement option for devotees and newbies alike, especially with online instruction just a keyboard click away. Better yet, to practice yoga, all you need is a mat (or in a pinch, a towel), a small space and your body! And now, new research offers even more reason to make practicing your warrior pose a regular part of your quarantine routine.
A recent review published in the British Journal of Sports Medicine has found that movement-based yoga improves a range of mental health conditions, and the more weekly sessions completed, the greater the effects. These findings are "very good news for people struggling in times of uncertainty," lead researcher, Jacinta Brinsley, told Medical Xpress.
The researchers looked at 19 studies from around the world, involving more than 1,000 adults with a range of mental health issues including depression, generalized anxiety, mood disorders, post-traumatic stress disorder, psychotic disorders and more.
The yoga practices in the studies included a mix of movement, breathing exercises and/or mindfulness, but the movement component (or asana) comprised at least 50 percent of the session. The studies also revealed that the more weekly yoga sessions completed, the greater the effect on easing depressive symptoms.
The more weekly yoga sessions completed, the greater the effect on easing depressive symptoms.
"Perhaps the most encouraging news from this study is that it doesn't appear to matter what style of yoga you practice — just that you practice," adds Joyce Englander Levy, Director of Mindful of Movement at THE WELL. "Whether you like to link your breath to movement and smoothly flow from pose to pose, or you prefer to focus on alignment work on endurance, the mental and emotional benefits will be there for you."
According to Harvard Health, past available research has also suggested that yoga can help reduce the impact of stress, and help alleviate symptoms of anxiety and depression — with or without the presence of a diagnosed mental illness. It's theorized that yoga does this by modulating our stress response systems — or moving us from a fight-or-flight to a rest-and-digest response.
Sound soothing? We thought so, too. Here's a simple morning yoga sequence to get started.