Surprise your BBQ crowd with these delish dishes (they're all cleanse-friendly!)
Cauliflower "Steaks" with Chimichurri
Adapted from Molly Stevens, Eating Well
Serves 4
Ingredients:
1 large head cauliflower (about 3 pounds)
2 tbsp extra-virgin olive oil
2 cloves garlic, minced
1 tbsp minced jalapeño pepper
3/4 tsp salt, divided
2 tbsp finely chopped fresh oregano
2 tbsp finely chopped fresh thyme
2 tbsp water
2 tsp sherry vinegar
1/2 tsp paprika
Olive oil cooking spray
Freshly ground pepper to taste
3 tbsp finely chopped flat-leaf parsley
Directions:
Combine oil, garlic, jalapeño and 1/4 tsp salt in a small saucepan or skillet.
Cook over medium heat just until the garlic starts to sizzle, about 2-4 minutes, but don't let it brown.
Remove from heat and stir in oregano, thyme, water, vinegar and paprika.
Cover and set aside.
Preheat oven to 450 degrees F.
Line a baking sheet with parchment paper and coat with cooking spray.
Remove any outer leaves from the cauliflower, but leave the stem intact. 
Place on a cutting board, stem-side down. Using a large chef's knife, cut into 1/2- to 3/4-inch-thick slices. The center few slices should remain more or less intact, but the outer slices will crumble into smaller pieces.
Cut any of the medium pieces into 1/2- to 3/4-inch-thick flat shapes (the flat surfaces roast the best).
Place the large and medium pieces on the baking sheet with the cut surfaces touching the pan. Sprinkle small pieces in any empty spots.
Coat the cauliflower with cooking spray and season with the remaining 1/2 tsp salt and pepper.
Roast the cauliflower, gently turning once halfway through, until browned and the stems feel tender when pierced with a knife, 25-35 minutes.
Just before serving, stir parsley into the reserved herb sauce and season with pepper.
Serve the cauliflower steaks with the sauce.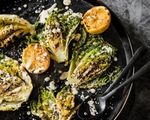 Chargrilled Baby Gem Lettuces with Lemon Tahini
From Modern Food Stories
Ingredients:
2 baby gem, cos or romaine lettuce
2 tbsp extra virgin olive oil
Flaked sea salt or pink Himalayan salt to taste
Cracked black pepper, to taste
1 small lemon, halved
1/2 tbsp extra virgin olive oil
1 tsp sesame seeds
For the lemon tahini:
1 tbsp tahini
1 tsp extra virgin olive oil
Squeeze of lemon, from the chargrilled lemon above, to taste
Pinch of flaked sea salt or pink Himalayan salt, or to taste
1 tsp-tbsp water depending how thick your tahini is
Directions:
Preheat a griddle pan on medium-high.
Cut the baby gem lettuce in half, or quarters if you prefer.
Rub 2 tbsp of olive oil over the lettuce, using your fingers or a pastry brush, and season with salt and pepper.
Chargrill for about 2-3 minutes per side until crisp and you can see the char marks.
Slice the lemon in half and grill for about 2-3 minutes too until slightly charred in the centre. Allow the lemon to cool slightly before adding to the tahini.
To make the lemon tahini, add all the dressing ingredients to a bowl and mix with a balloon whisk until smooth. (Using a whisk stops the dressing splitting, unlike when using a spoon.)
Plate the lettuce and drizzle with lemon tahini, 1/2 tbsp of extra virgin olive oil, sesame seeds and optional extra seasoning.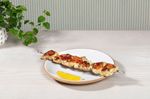 Chicken Kebab with Summer Savory Marinade
From THE WELL Kitchen & Table
Serves 2
Ingredients:
For the kebabs:
2 boneless skinless chicken breast for each skewer
2 boneless skinless chicken thigh for each skewer
1 cup summer savory marinade (recipe below)
For the marinade:
20 sprigs savory
5 sprigs rosemary
8 cloves garlic, peeled and smashed
1-inch piece ginger, grated
1 cup extra-virgin olive oil
Directions:
With a mortar and pestle (if available) or a food processor combine all marinade ingredients. (This is a great marinade for chicken and vegetables suitable for the grill, such as zucchini and bell peppers.)
Cut breast and thigh into 1 to 1 1/2-inch chunks.
Place in a large bowl and add savory marinade, stirring to coat.
Skewer chunks evenly on 2 skewers, place in baking pan and pour marinade over top.
When ready, grill or pan sear for about 8 minutes, seasoning with kosher salt and pepper.
Finish with flaky salt and a lemon wedge, or Avocado Tzatziki (recipe below).
Avocado Tzatziki Recipe
From Alison Maras, Food By Mars
Ingredients:
1 small ripe avocado
1/2 English cucumber seeded, finely grated and drained
2 garlic cloves minced
1 tsp lemon zest
1 tbsp fresh lemon juice
2 tbsp chopped fresh dill or 1tbsp dried dill
Salt and pepper to taste
Directions:
Combine all ingredients in a food processor and store in the fridge until ready to use, eat quickly since the avocado will brown after a couple of days.
Cilantro Garlic Shrimp Skewers
From The Real Simple Good Life
Ingredients:
3/4 lb large shrimp, peeled
5 cloves garlic, minced
Handful cilantro, diced
1 tbsp chili powder
Juice of one lime
1/3 cup coconut aminos (or enough to make a paste with the other ingredients)
Directions:
Start your BBQ so that it heats up while you prepare the shrimp.
Peel your shrimp and give them a quick rinse under cold water. Set aside while you prepare the paste.
In a medium bowl, combine garlic, cilantro, chili powder and lime juice. Mix it together — it should be pretty thick.
Add in enough coconut aminos to make a paste that can be smeared on the shrimp.
Add your shrimp to the bowl and mix everything together to give the shrimp a good coating with the paste.
Put your shrimp on the skewers.
Grill the shrimp for about 3 minutes each side, until it is cooked through.
Grilled Artichokes
From All Recipes
Ingredients:
2 large artichokes
1 lemon, quartered
3/4 cup olive oil
4 cloves garlic, chopped
1 tsp salt
1/2 tsp ground black pepper
Directions:
Fill a large bowl with cold water. Squeeze the juice from one lemon wedge into the water. Trim the tops from the artichokes, then cut in half lengthwise and place halves into the bowl of lemon water to prevent them from turning brown.
Bring a large pot of water to a boil. Meanwhile, preheat an outdoor grill for medium-high heat.
Add artichokes to boiling water, cook for about 15 minutes and then drain. Squeeze the remaining lemon wedges into a medium bowl. Stir in the olive oil and garlic and season with salt and pepper.
Brush the artichokes with a coating of the garlic dip and place them on the preheated grill. Grill the artichokes for 5-10 minutes, basting with dip and turning frequently, until the tips are a little charred. Serve immediately with the remaining dip.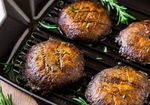 Grilled Portobello Mushrooms with Herbed-Avocado Sauce
From WellPlated
Serves 4
Ingredients:
4 large portobello mushrooms stems and gills removed, wiped clean
1/4 cup balsamic vinegar
1 tbsp extra virgin olive oil
1 tbsp coconut aminos
1 tbsp chopped fresh rosemary or 1/2 tsp dried
1 tsp garlic powder
1/2 tsp black pepper
1/8 tsp cayenne pepper optional, plus additional to taste
Avocado oil for grilling
Optional for serving: Herby Avocado Sauce (recipe below).
Directions:
In a shallow baking dish, whisk together the balsamic vinegar, olive oil, coconut aminos, rosemary, garlic powder, black pepper, and cayenne. Taste and adjust seasonings if you like.
Add the mushrooms and turn to coat. Let sit for 5 minutes on one side, then flip and let sit 5 additional minutes.
While the mushrooms marinate, prep the grill and anything you'd like to serve with them. You can let them sit for up to 30 minutes, so feel free to take your time — the longer they sit, the more intense the flavor will be.
Heat a grill or a large skillet over medium heat (about 350 to 400 degrees F). Brush the grill with oil to prevent sticking.
Remove the mushrooms from the bowl, shaking off any excess marinade and reserving the marinade for basting.
Cook on each side for 3-4 minutes, or until caramelized and deep golden brown. Brush the remaining marinade over the mushrooms several times as they cook.
To serve, top the portobello mushrooms with the avocado sauce or any topping you like.
These also make delicious mushroom burgers so you can serve them with lettuce wrap buns and your favorite fresh toppings (like spinach, tomato and avocado).
Herbed Avocado Sauce
1 cup mixed fresh parsley and cilantro or a mix, chopped
2 cloves garlic minced (about 2 tsp)
1 jalapeño cored, seeded, and finely diced
2 tbsp freshly squeezed lime juice about 1 medium lime
1/2 tsp kosher salt
1/4 tsp black pepper
1/4 tsp dried oregano
2 tbsp extra virgin olive oil
1 medium ripe avocado peeled, pitted, and diced
Directions:
Prepare the avocado topping: in a medium bowl, whisk together the parsley and cilantro, garlic, jalapeño, lime juice, salt, pepper, oregano and olive oil.
Add the avocado and gently stir to combine.
Taste and adjust the seasoning as desired.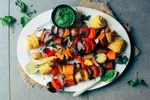 Grilled Veggie Skewers with Chimichurri Sauce
Makes 6 skewers
From Minimalist Baker
Ingredients:
For the vegetables:
1 large sweet potato (chopped into large pieces)
4-6 whole baby red potatoes (quartered)
1 medium red bell pepper (seeds removed + chopped into large pieces)
1 medium yellow bell pepper (seeds removed + chopped into large pieces)
1 medium red onion (peeled + chopped into large pieces)
2 large portobello mushrooms (wiped clean + chopped into large pieces)
1-2 tbsp avocado or coconut oil (for brushing vegetables)
1 healthy pinch each sea salt and black pepper
For the sauce (optional):
Chimichurri Sauce (recipe below)
Directions:
Heat up your grill or preheat oven to medium/high broil.
Place your chopped sweet potato and potatoes in a large pot and cover with water. Bring to a boil and cook or "parboil" for about 10 minutes or until almost tender. You want them to be semi-tender — firm enough to stay on a skewer, but tender enough that they won't require too much time on the grill/in the oven. Drain and let cool slightly.
Assemble skewers by adding the vegetables in layers to the skewers, leaving enough room at the top and the bottom to help with flipping and preventing vegetables from falling off. Brush with a neutral, high-heat oil such as avocado or coconut oil, and sprinkle generously with salt and pepper on all sides.
Grill (or broil) until grill marks are present and vegetables are tender and cooked through (about 10-15 minutes). Flip once at the halfway mark to ensure even cooking. If browning too quickly, move to the perimeter of the grill, where the heat is less intense (or turn oven heat down/move the pan lower in the oven).
While the vegetables are grilling, prepare your chimichurri sauce (optional).
Enjoy as is or with the Chimichurri Sauce below! Best when fresh, though leftover grilled vegetables will keep covered in the refrigerator up to a few days. Reheat on the stovetop in a cast-iron or metal skillet or in the oven at 350 degrees F.

Chimichurri Sauce
From Minimalist Baker
Ingredients:
5 cloves garlic (peeled and crushed)
1 medium serrano pepper (seeds and stem removed — use less if not into spicy food)
1 cup packed cilantro (thick bottom stems cut off)
1 cup packed flat-leaf parsley
3 tbsp ripe avocado
1/4 tsp salt (plus more to taste)
3 tbsp lime juice
2-3 drops pure stevia
1 tbsp avocado oil (optional, or sub more water)
Water (about 3 tbsp, to thin)
Directions:
Place garlic and pepper in a food processor along with the cilantro, parsley, avocado, salt, lime juice, stevia and oil (optional).
Mix until smooth, scraping down sides as needed. Thin with water until a semi-thick (but pourable) sauce is formed.
Taste and adjust flavor as needed, adding more serrano pepper for heat, garlic for zing, avocado for creaminess, salt for saltiness, lime for acidity, or stevia for sweetness.
Transfer to a serving container and enjoy immediately, or cover and refrigerate up to 4-5 days. Be sure to seal tightly or the sauce will lose its vibrant green color.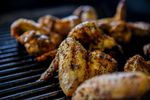 Lemon and Herb Marinated Grilled Chicken Thighs
Recipe adapted from Anne Burrell
Ingredients:
Juice and zest of 4 lemons, plus 2 whole lemons
5 sprigs fresh rosemary, finely chopped
5 sprigs fresh sage, finely chopped
3 cloves garlic, smashed and finely chopped
1/2 tsp crushed red pepper
Extra-virgin olive oil
8 chicken thighs, trimmed of excess fat
Kosher salt
Directions:
In a small bowl combine the lemon juice and zest, chopped herbs, garlic, crushed red pepper and 1/2 cup of olive oil. Whisk to combine.
Place the chicken thighs in a wide flat dish so they are in a single layer. Add the herb mixture. Massage the thighs to coat with the herb mixture. Cover and refrigerate overnight.
Note: If doing a quick marinade, leave the chicken out of the fridge for up to 1 hour.
Preheat grill. Brush and oil the grill to clean.
Remove the chicken from the marinade and brush off any excess herbs and oil. Season the chicken generously with salt and drizzle with a little bit of fresh olive oil.
Cut the 2 whole lemons in half and cut the tips off the ends; this will allow the lemons to stand up without rolling around. Place the chicken, skin side down, on the preheated grill. Place the lemons, flesh side down, on the preheated grill.
Grill the chicken for 3-4 minutes and then rotate the chicken 90 degrees to create the crosshatch pattern. Grill the chicken for another 3-4 minutes. Turn the chicken over and grill for another 4-5 minutes. Check to see if chicken is well cooked, then check the lemon halves (they should be beautifully caramelized). Turn over lemons to grill on the bottom for 2-3 minutes.
Serve the chicken with grilled lemon.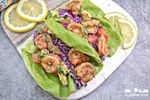 Shrimp Taco Lettuce Wrap
From My Montana Kitchen
Ingredients:
2 pounds peeled and deveined shrimp
2 tbsp olive oil
1 tsp chili powder
1 tsp paprika
2 tsp cumin
2 tsp minced garlic
Salt and pepper to taste
8 tbsp shredded purple cabbage
1/2 avocado, chopped
4 tbsp chopped tomatoes
3 tbsp freshly chopped parsley
15-18 Bibb or butter lettuce leaves
1 Lemon (optional)
Directions:
Clean and dry your shrimp.
Dice the tomatoes and avocado, chop the parsley and shred the purple cabbage.
In a mixing bowl, combine the shrimp, chili powder, paprika, cumin, minced garlic and salt and pepper to taste.
Heat 2 tbsp of olive oil in a large skillet over medium-high heat. Cook the shrimp for 5-8 minutes until cooked through. (You may need to cook the shrimp in two or more batches depending on the size of your skillet.)
Let the shrimp cool for a few minutes before creating your lettuce wraps. This will keep the lettuce wraps from immediately wilting
To make one serving, place two or three lettuce leaves on a counter or plate. Split 2 tbsp of purple cabbage, 10 shrimp, 1/6 of the chopped avocado and 1/2 tbsp of chopped tomatoes between the lettuce leaves. Top with some freshly chopped parsley and a squeeze of lemon.
Repeat step 6 to create all 6 servings of shrimp tacos.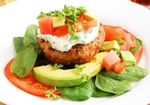 Turkey Burgers
From PaleoGrubs
Ingredients:
1 lb ground turkey
1 tsp onion powder
1 tsp paprika
1/2 tsp salt
1/2 tsp freshly ground pepper
1/2 tsp coriander
Pinch of cayenne
2 green onions, chopped
1 tomato, sliced
2 cups fresh spinach or arugula
1 avocado, sliced
Directions:
Add the ground turkey, onion powder, paprika, salt, pepper, coriander, cayenne and green onions to a large bowl and stir to combine.
Use your hands to form into burger patties.
Heat the grill to medium-high heat and cook the burgers for 5-6 minutes on each side, or until cooked through.
Serve the burgers over sliced tomato, spinach and avocado.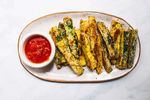 Baked Zucchini Fries
From Food by Mars, Alison Marras
Serves 2
Ingredients:
2 large zucchinis
1/2 cup almond flour
1 tbsp Italian seasoning
1 tsp garlic powder
Pinch of sea salt and pepper to taste
1-2 large eggs
Directions:
Preheat oven to 425 degrees F and line a baking sheet with parchment paper.
Cut zucchini into thick slices and pat dry with a paper towel.
In a large mixing bowl, mix almond meal with seasonings.
In a separate shallow bowl crack eggs and whisk together.
Dip zucchini pieces into the egg wash, then dredge in almond meal mix. Make sure they are well coated.
Add each piece to a baking sheet, make sure they're not overlapping.
Bake for 25 minutes, flipping halfway with tongs to get them crispy and golden on each side. Serve zucchini fries warm!