When colder weather rolls in, certain things happen: You start layering your clothes, spending less time outdoors and craving hot sips and eats to warm both body and soul. Enter: Bone broth.
"Bone broth is a great item to make at home this time of year," says chef Laura Allen, Director of Food & Beverage at THE WELL. "It is warming and soothing — and packed with collagen, nutrients and minerals." This elixir is known for being a source of muscle-boosting collagen as well as an aid in gut health.
You can think beyond sipping these brews like teas, though — bone broth is an easy addition to other dishes. "It is an amazing base for other soups, sauces and gravy," says Allen. "It freezes well, so it's kind of impossible to make too much."
At THE WELL Kitchen & Table, "we save all our vegetable trim and make our own vegetable stock," says Allen. "We save everything: mushroom and cauliflower stalks, assorted peelings and more. If you don't have access to composting, this is a great way to maximize use of veggies and reduce food waste that could otherwise end up in a landfill."
If you're looking for bone broth at a grocery store, be sure to check labels. Research shows bone broth can vary in terms of collagen levels, so be on the lookout for grass-fed or pasture-raised. THE WELL Health Coaches like brands such as Brodo and Bonafide Provisions.
Prefer the from-scratch route? If you're comfortable in the kitchen and hoping to make bone broth (or a vegan equivalent), these three chef-approved recipes will totally satisfy.
RELATED: The Power of Pumpkin
THE WELL Bone Broth
A make-at-home version of THE WELL Kitchen & Table's signature sip.
4 lbs beef bones
4 lbs chicken bones
2 carrots, unpeeled
2 onions, with skin
1/4 cup  black peppercorn
6 quarts water
3 star anise
3 green cardamom
6 cloves
1 tbsp sherry vinegar
Lemon juice to taste
Himalayan salt to taste
Thyme sprigs to garnish
Roast bones in the oven at 400 degrees F until light brown. Add to a stock pot with carrots, onions and black pepper. Cover with cold water. Simmer on low low heat for at least six hours — preferably overnight. During the last hour of cooking, add spices and sherry vinegar. Let cool completely and scrape fat off the top. To serve, heat and season with salt and lemon juice to taste, garnish with a sprig of thyme.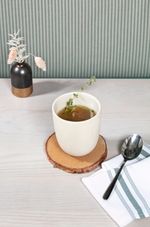 Mushroom and Kombu Dashi
Because vegans shouldn't have to miss out on broth's nourishing benefits.
1/4 lb dried shitake
1/2 lb kombu
3 quarts water
Rosemary sprigs to garnish.
Soak mushrooms and kombu overnight. The next day, bring them to a boil, strain and cool. Garnish with rosemary.
Thanksgiving (and Beyond) Broth
This recipe makes a great base for sauces and gravy, so consider it a holiday staple.
6 lbs turkey parts (If cooking a whole turkey, double the recipe)
3 carrots
2 onions
1 celery
1/2 cup tomato paste
1/2 cup olive oil
5 quarts water
Himalayan salt to taste
Lemon juice to taste
Sage sprigs to garnish
On medium heat, add olive oil to a stock pot. Add vegetables and tomato paste and stir until soft. Add turkey and water, bring to a simmer and lower heat. Simmer for up to 24 hours. Strain and cool completely. To serve, reheat and season with salt and fresh lemon juice, garnish with sage.
Chef's tip: If available, use a slow cooker as a vessel to make stock. "The whole idea is low and slow," says Allen. "Generally, the longer it cooks, the better — this method extracts nutrients from the bones. That said, if you simmer the broth at a high heat for too long, it will get bitter."
Not much of a chef? No judgement. Book a table at THE WELL Kitchen & Table — the house-made bone broth isn't just tasty, it's sustainable.