Matcha Bliss Balls That Support Your Energy and Immunity
Meet your new mid-afternoon pick-me-up.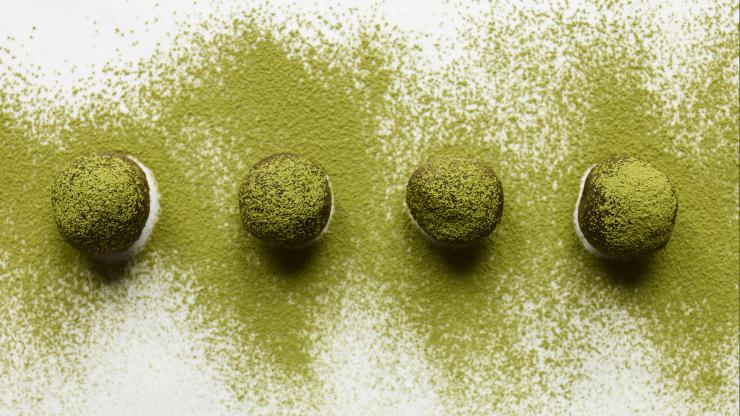 Fully loaded with healthy fats and antioxidants, just one of these balls will provide you with an energy boost along with some stress and immunity support. They're not too sweet and make a great snack that will tide you over until your next meal. Store these in the freezer for the best freshness and texture.
Matcha Bliss Balls
Makes 10 to 12 balls
Ingredients: 
1/4 cup pumpkin seeds
1/4 cup pistachios 
1/2 cup cashews
1/2 cup almonds
1 cup unsweetened shredded coconut
1 teaspoon ground cinnamon
1/4 teaspoon sea salt
2 tablespoons matcha powder, plus more for dusting (optional) 
1/2 cup coconut oil
1/4 cup coconut butter
1/3 cup almond milk or coconut milk 
4 Medjool dates, pitted
2 teaspoons astragalus 
2 teaspoons reishi
2 tablespoons manuka honey 
Directions: 
Place all ingredients in a food processor. 

Pulse until well combined. It should be a pulverized, sticky mixture. 

With clean hands, roll the mixture into 2-inch balls. 

Place the balls on a baking sheet or plate and place in the freezer.

Store in an airtight container in the fridge or freezer.
Recipe adapted from Super Powders – Adaptogenic Herbs and Mushrooms for Energy, Beauty, Mood and Wellbeing by Katrine van Wyk, Lead Health Coach at THE WELL.
This content is not intended to be a substitute for professional medical advice, diagnosis or treatment. Always seek the advice of a qualified healthcare provider with any questions you may have regarding a medical condition. At THE WELL, our practitioners, including a licensed herbalist and medical doctor, can help you find the best herbal remedies for optimal health.