This Adaptogenic Granola is a Beauty Superfood
Packed with protein and healthy fats, a little goes a long way.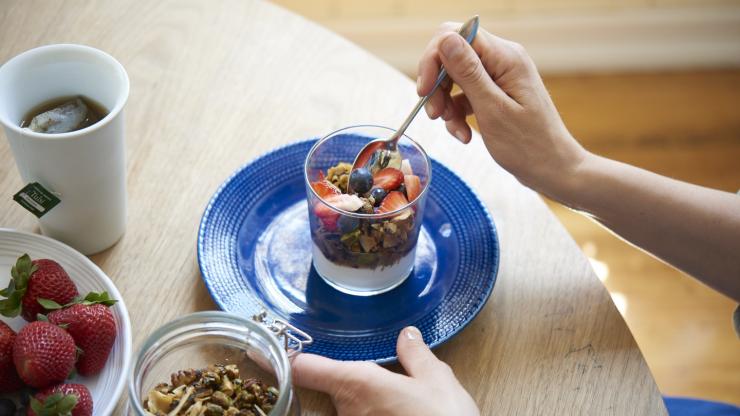 The real-food ingredients in this hearty granola boost your stamina along with your overall glow. Collagen peptides provide protein, while calming ashwagandha supports your mood, no matter what life throws at you. Use as a topping for yogurt, smoothies — or simply eat it as a snack. 
Adaptogenic Nut Granola 
Makes 3 cups (12 servings) 
Ingredients: 
1 cup pistachios, roughly chopped
1 cup pecans, roughly chopped
3 tablespoons sesame seeds
1 cup coconut flakes
1 teaspoon pink Himalayan sea salt
1/2 teaspoon ground cinnamon
2 tablespoons collagen peptides 
1 teaspoon ashwagandha 
2 tablespoons coconut oil 
1/4 cup pure maple syrup 
Directions:
Preheat oven to 300 degrees Farhenheit. 

Toss all nuts, seeds and coconut together in the bowl. 

Add the salt, cinnamon, collagen and ashwagandha and mix well.

Drizzle with the coconut oil and maple syrup and mix well.

Spread the granola mixture on a baking sheet and place in the oven. 

Bake for 30 to 35 minutes, tossing the mixture every 10 minutes. 

Remove granola from the oven and let cool before transferring to an airtight jar. 
Recipe adapted from Super Powders – Adaptogenic Herbs and Mushrooms for Energy,Beauty, Mood and Wellbeing by Katrine van Wyk, a Health Coach at THE WELL.
This content is not intended to be a substitute for professional medical advice, diagnosis or treatment. Always seek the advice of a qualified healthcare provider with any questions you may have regarding a medical condition. At THE WELL, our practitioners, including a licensed herbalist and medical doctor, can help you find the best herbal remedies for optimal health.